The 7th-generation iPod touch, also known as the iPod touch 7, iPod touch 7G, or iPod touch (2019), is a multipurpose handheld device with a touchscreen-based user interface designed and marketed by Apple Inc.
Description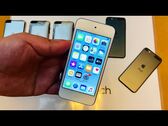 It is the successor to the 6th-generation iPod touch, becoming the first major update to the iPod touch line since 2015. It was released through the Apple online store on May 28, 2019 with iOS 12.3 pre-installed. With an Apple A10 "Fusion" processor, it can be updated to iOS 15.x.[1] Like earlier generations, it comes with EarPods that do not include a mic or remote controls.[2]
Requirements
The minimum operating systems required to sync to the 7th-generation iPod touch are OS X 10.11.4 "El Capitan", Windows 7, or later. A USB 2.0 connection is required.
References
External links