iWeb

Latest Stable Release

11

Price

Included with iLife

Developer

Apple

Category

Website Builder

Homepage
iWeb was a website builder designed and marketed by Apple Inc. for the iLife suite. It was discontinued after iLife '09.
Using iWeb
iWeb Description
Now that you know about iWeb is lets get deeper down into the iWeb features.
Designing a website may seem difficult, but with iWeb, it's easily within your reach. Create your site using themes. Customize it with photos, movies, text, and widgets. iWeb even notifies Facebook when your site changes and adds a link to your profile so your friends stay up to date.
Design the Website
A Mac and iWeb. That's all you need to design and publish your own personal website. Start by picking an Apple-designed theme. Each theme comes with coordinated fonts, backgrounds, and colors to give your site a consistent look throughout.
Next choose a page template. iWeb features ready-made templates for welcome, about me, photo album, movie, blog, and podcast pages. Create as many pages as you like.
Then it's time to customize your layout with easy-to-use iWeb tools. Drag in photos or movies or type text into placeholders. Resize and rotate photos. Create overlays. There's no coding required. No complicated design programs to buy. No obstacles between you and a great-looking website.
Add Your Media
You keep photos in iPhoto. You edit movies in iMovie. You create songs in GarageBand. iWeb gives you great ways to share those photos, movies, and songs on your own website.

Customize your site. Fill your website with photos, movies, and more.
Find out how to customize your site Just click the Media button to open the iLife Media Browser: a list of all the audio, photos, and video on your Mac. Find what you want to share and drag it right into your web page, photo album, blog, or podcast.
If you share lots of photos and movies on your website, iWeb also includes My Albums pages that collect all your media albums on a single page — so they're easy to share and to browse.
Add your Media: Video
Add some widgets
Ever heard of the Wix Website Editior? well its a drag and drop flash editor like iWeb does. You can add series of different widgets such as a Youtube Video Create a site that's fun to visit by adding a few interactive widgets. iWeb makes it drag-and-drop easy to add RSS feeds, iSight photos and videos, a countdown timer, YouTube videos, HTML snippets, and other dynamic features. The iWeb Widget Browser puts every widget within reach. All you do is drop the widget you want anywhere on your page.
Widget Gallery
YouTube
RSS Feed
Picture from iSight Camera
---
Publishing
Publish your website the way you want, wherever you want, directly from your Mac. iWeb makes it easy. It takes just a few clicks to publish your site to any hosting service via FTP.
Manage multiple websites in iWeb with ease. Use the iWeb site organizer to reorganize, rename, or delete individual pages or entire websites. iWeb creates navigation menus for each site. And you can publish one site at a time via FTP.
Notify Facebook Friends of your update
iWeb uploads only your changes when you publish, so you'll enjoy quick site updates. iWeb will even notify your Facebook friends when you update your site. Simply link any iWeb site to your Facebook account. Following an update, iWeb adds the changes to your profile, alerting your friends and providing them with a handy link.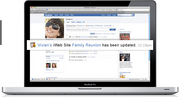 Author: Brett Young Personal Website Twitter Email (Mail To:) Learn More What is Mail To? (Link Coming Soon)
---
Community content is available under
CC-BY-SA
unless otherwise noted.