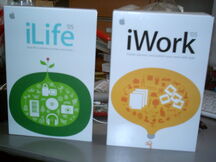 iWork '05 is the first release of the iWork productivity software suite which succeeded AppleWorks. It is comprised of Keynote 2 and Pages, a new word processor.
Release
iWork '05 was announced and released on January 11, 2005, during the keynote speech at the Macworld Conference & Expo San Francisco 2005 in San Francisco, California, USA.[1] It was superseded by iWork '06 on January 10, 2006.[2]
New features
All iWork apps now feature a Media Browser, which integrates with photos from iPhoto, movies from iMovie or the Movies folder, and music from iTunes.
Pages
Pages can be seen as either an extension of the word processing module in AppleWorks, or, as Apple Computer CEO Steve Jobs said, "word processing with an incredible sense of style".
The centerpiece of Pages are templates which can accept dropped images into placeholder frames and the input of text.
Keynote 2
Keynote 2 is a new version of the Keynote presentation software. It uses new themes, animated text, new builds, and other new features, including Flash Player output.
References
See also
iLife '05, the corresponding creativity suite from Apple.
External links