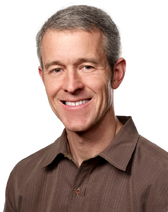 Jeff Williams (born c. 1963) is the Chief Operating Officer of Apple Inc. He was previously the Senior VP of Operations and became COO in 2015.
Education
Williams attended Jesse O. Sanderson High School in Raleigh, North Carolina. He holds a B.S. in Mechanical Engineering from North Carolina State University and an MBA from Duke University.[1]
Career
Williams joined Apple in 1998 as head of worldwide procurement and was named Vice President of Operations in 2004. Prior to Apple, Williams worked for IBM from 1985 to 1998 in a number of operations and engineering roles. In 2007, he played a significant role in Apple's entry into the mobile phone market with the launch of the iPhone, and he has led worldwide operations for iPod and iPhone since that time.
Williams was promoted to chief operating officer on December 17, 2015.[2] On June 27, 2019, with the announcement that Jonathan Ive was leaving Apple to form independent design company with Apple as client, it was noted that design team leaders Evans Hankey, vice president of Industrial Design, and Alan Dye, vice president of Human Interface Design, will report to Jeff Williams.[3]
References
External links