This is a featured article.


It showcases the best work within the Apple Wiki community!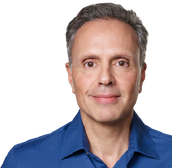 Johny Srouji (Hebrew: ג'וני סרוג'י, Arabic: جوني سروجي, born 1964) is the Senior Vice President of Hardware Technologies at Apple Inc.
Early life and education
Srouji was born in Haifa, Israel to a family of Lebanese descent. He earned bachelor's and master's degrees in computer science from the Technion – Israel Institute of Technology in 1988 and 1990, respectively.[1] He speaks Arabic, English, French, and Hebrew.[2]
Career
Srouji worked as a researcher and engineer at IBM R&D Labs in Israel from January 1990 to December 1992. He joined Intel at their Israel Design Center in January 1993 and where he became a senior manager. Srouji returned to IBM in January 2005 as a CPU design manager for their POWER7 series.[1]
Apple Inc.
In March 2008, Srouji was recruited by Bob Mansfield to join Apple, where he led the development of the Apple A4, the first system-on-a-chip (SOC) to be designed at the company. The Apple A7 surprised the industry in 2013 by moving Apple's mobile devices to 64-bit computing.[2][3] After successfully rushing the Apple A9X to market for the iPad Pro in 2015, Srouji was promoted to Senior Vice President, leading development of Apple processors and reporting directly to CEO Tim Cook.[2]
In 2019, Intel considered Srouji as a candidate to be its next CEO.[4] However, Srouji had reportedly informed his staff at Apple that he had no plans to leave the company.[5]
At the 2020 Worldwide Developers Conference, Srouji discussed the transition of the Mac platform from Intel processors to Apple processors with the goal of increasing performance while reducing power requirements.[6]
Quotes

"Hard is good. Easy is a waste of time."
"The chip architects at Apple are artists, the engineers are wizards."
"My rule of thumb is if it's not gated by physics, that means it's hard but doable."
"The only way for Apple to really differentiate and deliver something truly unique and truly great, you have to own your own silicon."[2]
"Apple is about focus. We focus on the things where we're going to just

double-down

and deliver"
"If you make a mistake in the Silicon, it will cost you a lot. When it's in the field – that is pretty bad."
Gallery
References
See also
External links
Articles
Community content is available under
CC-BY-SA
unless otherwise noted.