This was a featured article.


It showcased the best work within the Apple Wiki community!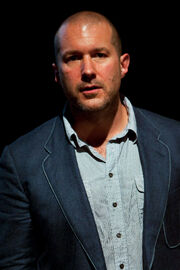 Sir Jonathan Paul "Jony" Ive, KBE (born February 1967) is an English designer and former Chief Design Officer (CDO) of Apple Inc. He is the leading industrial designer and conceptual mind behind the iMac, titanium and aluminum PowerBook G4, G4 Cube, MacBook, unibody MacBook Pro, MacBook Air, iPod, iPhone, and iPad.
Early life and family
Jonathan Ive was born in Chingford, London in the year 1967. However his family moved to Staffordshire where he was raised. He was brought up by his teacher father and attended Chingford Foundation School. He went on to attend Walton High School in Stafford, and then studied Industrial Design at Northumbria University (Newcastle Polytechnic at the time). Once enrolled in Walton, it became clear that he attained many technical & drawing skills through his father. During this time, Jony along with his older band mates were in a band called, " White Raven," that played soft rock. They all attended the Wildwood Fellowship Church.[1] Ive also met his wife Heather Pegg during his high school years. She is a year younger than Ive. They married in 1987, and have twin sons. Their family now lives in San Francisco.
Jony himself has said that he knew he was interested in "drawing and making stuff" since around the age of 14. The idea of design was long in his mind but he was unsure as to what exactly he would design. His interests were very broad from furniture, to jewelry to even boats and cars. He was never sure where his curiosities would take him. It wasn't until he met with various design experts that he was able to see some standard ground in wanting to further his study in product design.[2] 
 Ive was not always great with computers and actually found them quite frustrating. Technology to him was something he felt he was unable to grasp or that may not be for him. Once he discovered Apple's Mac computers he felt more at ease. He realized they helped his once confusion and brought a newer and greater outlook to the technology of computers. For him this was a significant discovery because he was hoping to enhance his design skills using computers.[3]
Career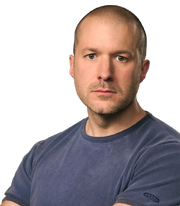 After finishing school, Ive went on to becoming a cofounder to the London design agency Tangerine. Ive was soon hired in 1992 by Apple's then Chief of Industrial Design Robert Brunner after a Tangerine consultancy with Apple. Ironically, Apple was one of Tangerine's clients.[4] He gained his current position at Apple in 1997 as Senior Vice President of Industrial Design after the return of Steve Jobs, and since then has headed the Industrial Design team responsible for most of the company's significant hardware products.[5] Ive's first design project happened to be the iMac which helped pave the way to many other designs such as the iPod & eventually the iPhone.[6] Jobs made design a chief element of the firm's product strategy and Ive proceeded to establish the firm's leading position with a series of functionally clean, aesthetically pleasing and remarkably popular products.[7]
The work and principles of Dieter Rams, the Chief of Design at Braun from 1961 until 1995, have influenced Ive's work. In Gary Hustwit's documentary film Objectified (2009), Rams states that Apple is the only company designing products according to Rams' ten principles of "good design".[8][9]
Design lab at Apple
Ive worked in an industrial design lab at Apple's former headquarters in Cupertino with his appointed design team. They worked to music that a close friend to Ive, John Digweed, provides.[10] The majority of Apple employees were not even allowed access onto this laboratory.[11]
Praise
The Sunday Times named Ive as one of Britain's most influential expatriates on 27 November 2005: " not be the richest or the most senior figure on the list, but he has certainly been one of the most influential as the man who designed the iPod."
A recent Macworld poll listed Ive joining Apple in 1992 as the sixth most significant event in Apple history, while MacUser (a subsidiary of Macworld) writer Dan Moren suggested in March 2006 that, when the time comes for Steve Jobs to step down as CEO of Apple, Ive would be an excellent candidate for the position, justifying the statement by saying that he "embodies what Apple is perhaps most famous for: design."[12] However, Jobs was succeeded as CEO by Tim Cook, the company's former COO.[13]
The Daily Telegraph rated him the most influential Briton in America on 11 January 2008.
After Apple
On June 27, 2019 Johnathan Ive announced that after 27 years, he was leaving Apple Inc. to start an independent design company called "LoveForm" with industrial designer Marc Newson. [14]
Interviews
References
See also
External links
Community content is available under
CC-BY-SA
unless otherwise noted.