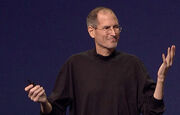 The Apple Keynote event (also known as the "Stevenote") is a presentation that Apple gives to the press, usually two to four times a year. Outside of the summer keynote address at the annual Worldwide Developers Conference (WWDC), Apple will announce new products and provide other updates about the company during Apple Special Events scheduled in the spring and fall.
One more thing
At a typical "Stevenote", Steve Jobs would often begin to leave the stage after his main presentation, but then walk back and announce "one more thing". Examples of such surprise product announcements include: color iMacs in 1999, the iPod Shuffle in 2005, FaceTime for iPhone in 2010, and iTunes Match in 2011.
Trivia
Video gallery
External links
Articles
Community content is available under
CC-BY-SA
unless otherwise noted.