Apple Inc. designs its own system on a chip (SoC) and system in package (SiP) processors for its consumer devices. Marketed as "Apple Silicon", development is headed by Senior VP of Hardware Technologies Johny Srouji at Apple's chip facilities in Cupertino, California and Herzliya, Israel.[1][2]
History
In April 2008, Apple acquired P.A. Semi for $278 million to bring fabless processor design in-house to the company. At the time, Apple relied on Intel for central processing units in its desktop products and Samsung for its mobile products.[3]
Early processors
Apple first used SoC (system on a chip) designs in early revisions of the iPhone and iPod touch. Specified by Apple and manufactured by Samsung, they combine into one package: a single ARM-based processing core (CPU), a graphics processing unit (GPU), and other electronics necessary for mobile computing.
A series
The Apple A series is a family of SoC designs developed by Apple for use in their mobile and consumer devices. They integrate one or more ARM-based processing cores (CPU), a graphics processing unit (GPU), cache memory and other electronics necessary to provide mobile computing functions within a single physical package. These were originally manufactured for Apple by Samsung, but production has since shifted to TSMC.[9]


M series
Introduced by Apple in late 2020 to transition its Mac computers away from Intel processors. By the end of following year, only three Intel-based Macs remained: the 27-inch iMac, the Mac mini (still offered as an alternative to the M1 version), and the 3rd-generation Mac Pro.[15]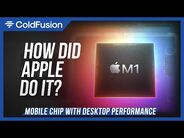 M series (motion coprocessors)
Later versions (Apple M9, M10, M11) were integrated on the die of subsequent Apple processors, starting with the Apple A9. For more information, see Apple motion coprocessors.
S series
T series
W series
H series
U series
References
↑ 1.0 1.1 1.2 Brad Stone, Adam Satariano, and Gwen Ackerman. "The Most Important Apple Executive You've Never Heard Of", Bloomberg, 2016-02-18.

 

↑ WWDC Special Event — June 22 by Apple, YouTube. 2020-06-22.
↑ "Apple Buys Chip Designer", Forbes. Retrieved on 2008-04-23.

 

↑ iPhone 1st Generation Teardown. iFixit (June 29, 2007). Retrieved on September 19, 2013.
↑ 5.0 5.1 5.2 Choi, Young (May 10, 2010). Analysis gives first look inside Apple's A4 processor. EETimes. Archived from the original on September 15, 2013. Retrieved on September 15, 2013.
↑ 6.0 6.1 That iPod touch runs at 533 MHz. TechHive (25 November 2008).
↑ iPod Touch 2nd Generation Teardown. iFixit (September 10, 2008). Retrieved on September 19, 2013.
↑ Lal Shimpi, Anand (June 10, 2009). The iPhone 3GS Hardware Exposed & Analyzed. AnandTech. Retrieved on September 13, 2013.
↑ 9.0 9.1 Lovejoy, Ben (2016-07-18). Apple reportedly dropping Samsung for not only A10 in iPhone 7 but also A11 in iPhone 8

(en-US)

. 9to5Mac.
↑ The iPhone 5 Review - Decoding Swift. AnandTech (October 16, 2012). Retrieved on October 17, 2012.
↑ Apple Event — September 15 by Apple, YouTube. 2020-09-15.
↑ Apple A14 Processor To Exceed 3.1GHz by Yasir Zeb, Research Snipers. 2020-03-15.
↑ Apple Event — September 14 by Apple, YouTube. 2021-09-14.
↑ 14.0 14.1 14.2 14.3 Apple Event — March 8 by Apple, YouTube. 2022-03-08.
↑ Here are the only Intel Macs left in Apple's lineup following today's 'Unleashed' event by José Adorno, 9to5Mac. 2021-10-18.
↑ Apple unleashes M1, Apple Inc. 2020-11-10.
↑ Apple Event — April 20 by Apple, YouTube. 2021-04-20.
↑ 18.0 18.1 Introducing M1 Pro and M1 Max: the most powerful chips Apple has ever built, Apple Inc. 2021-10-18.
See also
External links
Articles