This article may require cleanup to meet this Wiki's standards.
(MacBook need to be more clearly differentiated against other notebook lines.)
Please improve this article if you can.
The MacBook is a brand of Macintosh notebook computers and laptops designed, developed and marketed by Apple Inc. It presently consists of two lines of laptop computers — MacBook Air and MacBook Pro.[1] The original MacBook, introduced in May 2006, replaced the iBook and PowerBook lines of notebooks.
Current models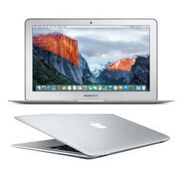 MacBook Air
On October 30, 2018, Apple released the MacBook Air, with Amber Lake processors, a 13.3-inch Retina display with a resolution of 2560×1600 pixels, Touch ID, and two combination USB-C 3.1 gen 2/Thunderbolt 3 ports plus one audio jack. It is available in three finishes, silver, space gray, and gold. Unlike the previous generation, this model cannot be configured with an Intel Core i7 processor, possibly because Intel never released the i7-8510Y CPU that would have been used.[2]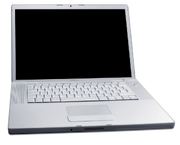 MacBook Pro
The MacBook Pro was announced on January 10, 2006 as the higher-end model of the MacBook family, sitting above the consumer-focused MacBook Air.[3]
Discontinued series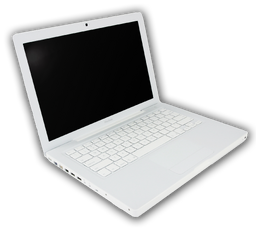 2006-2012: Early series
The original MacBook was released on June 28, 2006, and used the Intel Core Duo processor and 945GM chipset, with Intel's GMA 950 integrated graphics on a 667 MHz front side bus. Later revisions of the MacBook moved to the Core 2 Duo processor and the GM965 chipset, with Intel's GMA X3100 integrated graphics on an 800 MHz system bus.[4] On October 14, 2008, Apple announced the second-generation MacBook featuring a Nvidia chipset at a Cupertino, California press conference with the tagline: "The spotlight turns to notebooks".[5] On October 20, 2009, Apple released the third-generation MacBook which introduced a new polycarbonate (plastic) unibody design.[6]

2015-2019: Retina display
The New MacBook was released on April 10, 2015, and includes a Retina display, fanless design, a shallower "Butterfly" keyboard, and a single USB-C port for power and data.[7] It has a similar appearance to the MacBook Air, but is thinner and lighter, and is available in space gray, silver and gold. In the Macintosh product line, the MacBook sits between the MacBook Air and MacBook Pro in terms of average specifications.[8]
References
External links
Community content is available under
CC-BY-SA
unless otherwise noted.