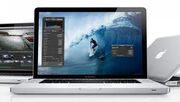 The MacBook Pro is a line of high-end laptop computers made by Apple Inc. It replaced the PowerBook G4 and was the second model, after the iMac, to be announced in the Apple–Intel transition. The MacBook Pro is the high end laptop of the MacBook family and is currently produced with 13-inch and 16-inch sized screens.
Models
There have been several major designs for the MacBook Pro, all using aluminum. The first was largely a carry-over from the PowerBook G4, but used the Intel Core processors instead of PowerPC G4 chips. A 15-inch model was released in January 2006, followed by a 17-inch model in April 2006, both of which received several updates and Core 2 Duo processors later in the year.
The second unibody model has a more tapered design and a casing made from a single block of aluminum. It debuted in October 2008 as the 15-inch MacBook Pro and the 13-inch aluminum unibody MacBook. The following January brought the design to the 17-inch model, along with the built-in battery that joined the rest of the MacBook Pro line in June. Subsequent updates brought upgraded Intel Core i5 and Intel Core i7 processors and introduced Intel's Thunderbolt technology.

At WWDC 2012, a new line of MacBook Pros were introduced with Retina displays. Thunderbolt replaced the previous FireWire ports and power was supplied by a new MagSafe 2 connector.
In 2016, the Touch Bar was introduced.
In November 2019, a new 16-inch size replaced the 15-inch version which incorporated the Magic Keyboard.
In May 2020, the 13-inch model incorporated the Magic Keyboard.
In November 2020, the a new 13-inch model was based on the Apple M1 was introduced.
External links