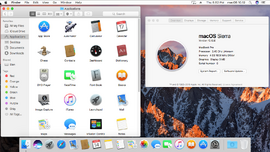 macOS 10.12.4 is an update to macOS 10.12 (Sierra) that was released by Apple on July 19, 2017.
Features
This update:
Resolves an issue that prevents making certain SMB connections from the Finder.
Fixes an issue that causes Xsan clients to unexpectedly restart when moving a file within a relation point on a Quantum StorNext File System.
Improves the stability of Terminal app.
Security content
External links