macOS Big Sur (version 11) is the current release of macOS, succeeding MacOS Catalina. It was announced on June 22 at the 2020 Worldwide Developers Conference and released on November 12, 2020.
New features
Big Sur features an iPadOS-style dock, translucent menus, and other new features closely tied to iOS 14.[1]
Changes
App design changes introducing full-height sidebars and more integrated toolbars.
Simplified Dock interface.
Application icons now conform to iOS' Round Rect boxes.
Control Center arrives to the Mac.
Notification Center is now more iOS-like, with grouped notifications in-line with widgets, and all interactive.
Safari: improved performance and energy consumption, new privacy protections, more customizable home screen, in-tab previews, data breach notifications, privacy reports, on-system translation service.
Messages: group tracking, contextual linking, pinned conversations, inline replies, mentions, group photos, improved Memoji, stickers, hashtags and message searching.
Maps: new trip-planning tools, location research tools, guides, EV and bicyle-centric route planning, 3D look Around, charging station tracking, indoor maps.
App Store: Safari Extensions get their own area, privacy information enhanced.
Photos: retouch now Machine Learning enhanced.
Peripherals: AirPods now automatically switch across devices using macOS 11, iOS 14, iPadOS 14 and later.
HomeKit: improved face recognition and activity zones.
Music: iTunes/Apple Music now includes a Listen Now tab.
Siri: better website integration.
Software Update: improved updating mechanism; non-interactive bits happen in the background, update process sped up.
Startup: The Mac startup chime is once again played by default upon booting.
Apple Silicon: Added support for new Macs with the Apple M1 processor, the MacBook Air, MacBook Pro and Mac mini.
History
Development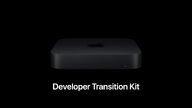 Big Sur was developed with Xcode as a dual-binary (referred to as Universal 2) that supports both Intel and Apple processors. Rosetta 2 will allow 64-bit Intel software to run in emulation on Apple processors. The first system provided by Apple to registered developers to run Big Sur natively on an Apple A12Z processor is the 2020 Developer Transition Kit.[1]
Release history
11.0             : 2020-11-?? (20A2411, pre-installed on some Apple M1 Macs)
11.0.1          : 2020-11-12 (20B29, first public release), 2020-11-19 (20B50, security update)
11.1             : 2020-12-14 (20C69)
11.2             : 2021-02-01 (20D64)
11.2.1          : 2021-02-09 (20D74)
11.2.2          : 2021-02-25 (20D80)
11.2.3          : 2021-03-08 (20D91)
11.3             : 2021-04-26 (20E232)
11.4             : 2021-05-24 (20F71)
Issues
Installation bug
Users discovered that the macOS Big Sur installer may not accurately anticipate the free space needed for the upgrade, which requires about 35.5 GB plus an additional 13 GB for the installer inself. If the installation process runs out of drive space before the process is completed, the resulting failure would result in an unrecoverable install loop and potential data loss. The installation bug still exists as of the beta version of macOS 11.3.[2] It is also recommended to check Energy Saver settings so that the computer does not go to sleep during installation.[3]
Gallery
Big Sur includes dynamic desktops, which change according to time and lighting conditions.
References
External links
Community content is available under
CC-BY-SA
unless otherwise noted.