Not to be confused with macOS 13 (Ventura).
This is a featured article.


It showcases the best work within the Apple Wiki community!
macOS High Sierra (version 10.13), first released on September 25, 2017, is the fourteenth major release of OS X, renamed macOS, Apple's desktop and server operating system for Macintosh computers. It is the successor to macOS Sierra and the predecceesor of macOS Mojave. Following the California landmark-based naming scheme introduced with Mac OS X Mavericks, High Sierra was named after the High Sierra region of the Sierra Nevada mountain range.
New features
The following is a partial list:
New APFS file system, also introduced in iOS 10, replaces the decades-old HFS+ drive format with a modern replacement.
HEVC, adds support for a much more efficient H.265 video codec.
Metal 2, adds a newer version of the graphics display system, which supports VR and extended GPU functionality at higher speeds.
Integrated VR support, contains support for creating, editing and interacting with VR media.
Photos, adds an expanded sidebar, improved organization tools, integrates with advanced editing tools, supports more Memories modules and live photo editing tools, and included People/Faces.
Safari, now contains Intelligent Tracking Prevention, the ability to disable autoplay, site-based browser settings, site-based always-on reader view.
Siri, supports preference learning for music and is more tightly integrated with iTunes, and text to speech is improved.
Spotlight, adds flight tracking features.
Mail Search, is improved with more options.
FaceTime, supports capture of Live Photos from streaming video.
Notes, adds pins and tables.
System requirements
macOS High Sierra runs on the following Macintosh models with at least 2 GB of RAM and 14.3 GB of available disk space:[1]
HEVC hardware acceleration requires a Mac with a sixth-generation Intel processor or newer:
External graphics processor support requires a Thunderbolt 3-enabled Mac:
It is possible to install High Sierra on many older Macintosh computers that are not officially supported by Apple. This requires using a patch to modify the install image.[2]
Deprecation of 32-bit support
Apple notified developers that High Sierra would be the last version of macOS to run 32-bit applications "without compromise". Starting with the update to macOS 10.13.3, launching a 32-bit application would display an alert that it "is not optimized for your Mac. This app needs to be updated by its developer to improve compatibility." macOS Mojave (10.14) would be the final major release to even run 32-bit software at all.[3] MacOS Catalina (10.15) would mark the completion of Apple's transition to 64-bit technology and no longer support 32-bit applications.[4]
Development and release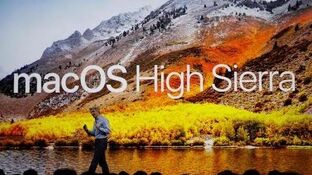 The first beta of macOS High Sierra was released to developers shortly after the keynote of the 2017 Worldwide Developers Conference on June 5. The new features were presented by Craig Federighi, the senior VP of software engineering. When discussing how the "crack marketing team" came up with the name High Sierra while traveling in their minibus, he joked that they "assured us this name is fully baked."[5]
The first public beta was made available in July 2017. macOS High Sierra was officially launched on September 25, 2017, as a free downloadable upgrade through the Mac App Store. There is no physical retail version from Apple, though it is possible to create a bootable drive of the installer.[6][7]
Release history
| | | | |
| --- | --- | --- | --- |
| | Previous release  | | Current release  |
Version
Build
Date
Darwin
Notes
Standalone download
10.13.0
17A365
September 25, 2017
17.0.0
Original Mac App Store release
About the security content of macOS High Sierra 10.13
N/A
17A405
October 5, 2017
About the security content of macOS High Sierra 10.13 Supplemental Update
macOS 10.13 Supplemental
10.13.1
17B48
October 31, 2017
17.2.0
About the macOS High Sierra 10.13.1 Update
About the security content of macOS High Sierra 10.13.1
macOS High Sierra 10.13.1 update
17B1002
November 29, 2017
About the security content of Security Update 2017-001
Security Update 2017-001 macOS High Sierra v10.13.1
17B1003
10.13.2
17C88
December 6, 2017
17.3.0
About the macOS High Sierra 10.13.2 Update
About the security content of macOS High Sierra 10.13.2
macOS High Sierra 10.13.2 Update
macOS High Sierra 10.13.2 Combo Update
17C89
17C205
January 8, 2018
About the security content of macOS High Sierra 10.13.2 Supplemental Update
macOS High Sierra 10.13.2 Supplemental
17C2205
10.13.3
17D47
January 23, 2018
17.4.0
About the macOS High Sierra 10.13.3 Update
About the security content of macOS High Sierra 10.13.3
macOS High Sierra 10.13.3 Update
macOS High Sierra 10.13.3 Combo Update
17D2047
17D102
February 19, 2018
About the security content of macOS High Sierra 10.13.3 Supplemental Update
macOS High Sierra 10.13.3 Supplemental
17D2102
10.13.4
17E199
March 29, 2018
17.5.0
About the macOS High Sierra 10.13.4 Update
About the security content of macOS High Sierra 10.13.4
macOS High Sierra 10.13.4 Update
macOS High Sierra 10.13.4 Combo Update
17E202
April 24, 2018
About the security content of Security Update 2018-001
Security Update 2018-001 macOS High Sierra v10.13.4
10.13.5
17F77
June 1, 2018
17.6.0
About the macOS High Sierra 10.13.5 Update
About the security content of macOS High Sierra 10.13.5
macOS High Sierra 10.13.5 Update
macOS High Sierra 10.13.5 Combo Update
10.13.6
17G65
July 9, 2018
17.7.0
About the macOS High Sierra 10.13.6 Update
About the security content of macOS High Sierra 10.13.6
macOS High Sierra 10.13.6 Update
macOS High Sierra 10.13.6 Combo Update
17G2208
17G3025
October 30, 2018
17.7.0
About the security content of Security Update 2018-002 High Sierra
Security Update 2018-002 High Sierra
17G4015
December 5, 2018
17.7.0
About the security content of Security Update 2018-003 High Sierra
Security Update 2018-003 High Sierra
17G5019
January 22, 2019
17.7.0
About the security content of Security Update 2019-001 High Sierra
Security Update 2019-001 High Sierra
17G6029
March 25, 2019
17.7.0
About the security content of Security Update 2019-002 High Sierra
Security Update 2019-002 High Sierra
17G6030
March 29, 2019
17.7.0
About the security content of Security Update 2019-002 High Sierra
Security Update 2019-002 High Sierra
17G7024
May 13, 2019
17.7.0
About the security content of Security Update 2019-003 High Sierra
Security Update 2019-003 High Sierra
17G8029
July 22, 2019
17.7.0
About the security content of Security Update 2019-004 High Sierra
Security Update 2019-004 High Sierra
17G8030
July 29, 2019
17.7.0
About the security content of Security Update 2019-004 High Sierra
Security Update 2019-004 High Sierra
17G8037
September 26, 2019
17.7.0
About the security content of Security Update 2019-005 High Sierra
Security Update 2019-005 High Sierra
17G9016
October 29, 2019
17.7.0
About the security content of Security Update 2019-006 High Sierra
Security Update 2019-006 High Sierra
17G10021
December 10, 2019
17.7.0

xnu-4570.71.63~1

About the security content of Security Update 2019-007 High Sierra
Security Update 2019-007 High Sierra
17G11023
January 28, 2020
17.7.0

xnu-4570.71.69~1

About the security content of Security Update 2020-001 High Sierra
Security Update 2020-001 High Sierra
17G12034
March 24, 2020
17.7.0

xnu-4570.71.73~1

About the security content of Security Update 2020-002 High Sierra
Security Update 2020-002 High Sierra
17G13033
May 26, 2020
17.7.0

xnu-4570.71.80~1

About the security content of Security Update 2020-003 High Sierra
Security Update 2020-003 High Sierra
17G13035
June 1, 2020
17.7.0

xnu-4570.71.80.1~1

About the security content of Security Update 2020-003 High Sierra
Security Update 2020-003 High Sierra
17G14019
July 15, 2020
17.7.0

xnu-4570.71.82.5~1

About the security content of Security Update 2020-004 High Sierra
Security Update 2020-004 High Sierra
17G14033
September 24, 2020
17.7.0

xnu-4570.71.82.6~1

About the security content of Security Update 2020-005 High Sierra
Security Update 2020-005 High Sierra
17G14042
November 12, 2020
17.7.0

xnu-4570.71.82.8~1

About the security content of Security Update 2020-006 High Sierra
Security Update 2020-006 High Sierra
References
External Links