macOS Mojave (version 10.14), first released on September 24, 2018, is the fifteenth major release of OS X, renamed macOS, Apple's desktop and server operating system for Macintosh computers. It is the successor to macOS High Sierra and the predecessor of macOS Catalina. Following the California landmark-based naming scheme introduced with OS X Mavericks, Mojave was named after the Mojave desert.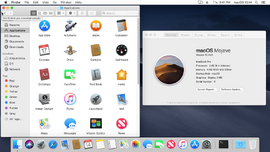 macOS Mojave brings new features inspired by pros but designed for everyone, including Dark Mode, Stacks, new apps and a redesigned Mac App Store. macOS Mojave, the latest version of the most advanced desktop operating system, became available as a free software update for Mac users. Mojave brought a number of new features to the Mac, including Dark Mode which transforms the desktop with a dramatic dark color scheme, and a new dynamic desktop with a series of time-shifting images to match the time of day. New productivity features like Stacks cleans up messy desktops by automatically organizing files into neat groups. The Mac experience is also enhanced with the arrival of familiar iOS apps, including News, Stocks, Voice Memos and Home, and a redesigned Mac App Store featuring rich editorial content that makes finding the right Mac apps easier than ever.[1]
New Features
Dark Mode
Dark Mode transforms the desktop with a dark color scheme that highlights content and makes it easier on the eyes, especially when working in low light such as in a darkened room or on an airplane. Dark Mode is beautifully integrated across built-in Mac apps including Mail, Messages, Maps, Calendar and Photos. Users can enable Dark Mode in System Preferences, and third-party app developers can also integrate Dark Mode in their own apps.
Stacks
Stacks quickly clears cluttered desktops by automatically organizing files into neat groups based on file types like images, presentations, PDFs and text documents. Users can also customize Stacks to sort based on other file attributes, including date and tags. Stacked files can be easily accessed by clicking to expand a Stack and then opening a file.
Dynamic desktop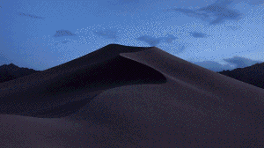 For the first time, the macOS Mojave desktop background features a series of images that shift to match the time of day wherever a user is in the world. The desktop, featuring the rolling sand dunes of the Mojave Desert, transitions with different lighting variations based on the time of day, from dawn to morning, midday, dusk and evening to give the Mac user an all-new experience.
Finder
Finder in macOS Mojave features an all-new Gallery View that lets users skim through files visually, while a Preview Pane shows all of a file's metadata, making it easier to manage media assets. Quick Actions now appear in the Preview Pane within Finder and allow users to do things like create and password-protect PDFs, and even run custom Automator Actions. Quick Look now lets users rotate and crop images, mark up PDFs and trim video and audio clips and can be accessed by selecting a file and pressing the keyboard space bar.
Screenshots
Screenshots delivers easy-to-use on-screen controls for quick access to screenshot options and new video recording capabilities. This feature can be accessed by launching the Screenshot utility or pressing shift-command-5 to access a series of controls to capture still images and videos of a Mac screen, including options for setting a timer and even choosing where to save screenshots.
Continuity Camera
With Continuity Camera users can shoot or scan a nearby object or document using their iPhone, and have it appear on their Mac. Users need to simply choose "Import From" in Pages, Keynote, Numbers, Notes, Mail and other supported apps to scan or shoot using their nearby iOS device.
Safari
In Safari, enhanced Intelligent Tracking Prevention helps prevent social media "Like" or "Share" buttons and comment widgets from tracking users without permission. Safari also presents simplified system information when users browse the web to prevent data companies from creating a unique "fingerprint" that can be used for tracking. To help users better manage their passwords, Safari now automatically creates, autofills and stores strong passwords when creating new online accounts and flags reused passwords so users can change them.
New Mac App Store
The Mac App Store was completely redesigned and now features rich editorial content that makes it easier than ever to find Mac apps. A new Discover tab highlights the hottest new apps for Mac, while Create, Work, Play and Develop tabs help users find apps for a specific project or purpose. Stories, collections and videos help you find the perfect app with in-depth information and insights about these powerful apps and the creators who use them. The Mac App Store also features a number of great new apps including productivity tools like Omni Focus 3 and games like Alto's Adventure and The Gardens Between.
New apps from iOS
Familiar iOS apps including News, Stocks, Voice Memos and Home come to the Mac for the first time, allowing users to do more than ever right from their desktop. News provides a one-stop destination for trusted news and information, curated by editors and personalized for each user. Stocks provides a simple way to track the market, delivering curated market news alongside a personalized watchlist complete with quotes and interactive charts. With Home, users can control their HomeKit-enabled accessories, from turning on lights to adjusting a thermostat or checking a baby monitor. And Voice Memos makes it easy to record personal notes, lectures, meetings, interviews or song ideas with the Mac's built-in microphone and then later access them through iCloud from iPhone, iPad or Mac.
Additional features
Safari now supports website icons in browser tabs so users can easily identify their open tabs with a glance. Website icons can be enabled in Safari Preferences.
Mail now features an Emoji menu right within the Mail composition window, making it quick and easy to add Emoji to email messages.
Siri on Mac now lets users control HomeKit-enabled devices and also has improved knowledge of food, celebrities and motorsports.
UK English, Australian English, Canadian French and Traditional Chinese for Hong Kong system languages are now included in macOS Mojave, as well as improved maps for China and romanized English input for the Japanese keyboard.
Release history
| | | | |
| --- | --- | --- | --- |
| | Previous release  | | Current release  |
Version
Build
Date
Darwin
Notes
Standalone download
10.14.0
18A391
September 24, 2018
18.0.0
Original Mac App Store release
About the security content of macOS Mojave 10.14
N/A
10.14.1
18B75
October 30, 2018
18.2.0 xnu-4903.221.2~2
About the macOS Mojave 10.14.1 Update
About the security content of macOS Mojave 10.14.1
macOS Mojave 10.14.1 Update
18B2107
October 30, 2018
Added support for the new Vega GPUs in the MacBook Pro and MacBook Air
18B3094
10.14.2
18C54
December 5, 2018
18.2.0 xnu-4903.231.4~2
About the macOS Mojave 10.14.2 Update
About the security content of macOS Mojave 10.14.2
macOS Mojave 10.14.2 Update
macOS Mojave 10.14.2 Combo Update
10.14.3
18D42
January 22, 2019
18.2.0 xnu-4903.241.1~4
About the macOS Mojave 10.14.3 Update
About the security content of macOS Mojave 10.14.3
macOS Mojave 10.14.3 Update
macOS Mojave 10.14.3 Combo Update
18D43
January 25, 2019
18D109
February 7, 2019
About the security content of macOS Mojave 10.14.3 Supplemental Update
macOS Mojave 10.14.3 Supplemental Update
10.14.4
18E226
March 25, 2019
18.5.0 xnu-4903.251.3~3
About the macOS Mojave 10.14.4 Update
About the security content of macOS Mojave 10.14.4
macOS Mojave 10.14.4 Update
macOS Mojave 10.14.4 Combo Update
18E227
10.14.5
18F132
May 13, 2019
18.6.0 xnu-4903.261.4~2
About the macOS Mojave 10.14.5 Update
About the security content of macOS Mojave 10.14.5
macOS Mojave 10.14.5 Update
macOS Mojave 10.14.5 Combo Update
10.14.6
18G84
July 22, 2019
18.7.0 xnu-4903.270.47~4
About the macOS Mojave 10.14.6 Update
About the security content of macOS Mojave 10.14.6
macOS Mojave 10.14.6 Update
macOS Mojave 10.14.6 Combo Update
18G87
August 1, 2019
Addressed the Wake from Sleep bug, which caused Macs not waking from sleep properly.[2]
macOS Mojave 10.14.6 Supplemental Update
18G95
August 26, 2019
18.7.0 xnu-4903.271.2~2
Security updates and bug fixes[3]

Addressed: MacBooks shutting down during sleep
Addressed: Performance throttling when handling large files
Addressed: iLife applications (Pages, Keynote, Numbers, GarageBand, and iMovie) not updating

macOS Mojave 10.14.6 Supplemental Update
18G103
September 26, 2019
Security updates and bug fixes[6]
macOS Mojave 10.14.6 Supplemental Update
18G1012
October 29, 2019
18.7.0 xnu-4903.278.12~4
About the security content of Security Update 2019-001
Security Update 2019-001 (Mojave)
18G2022
December 10, 2019
18.7.0 xnu-4903.278.19~1
About the security content of Security Update 2019-002
Security Update 2019-002 (Mojave)
18G3020
January 28, 2020
18.7.0 xnu-4903.278.25~1
About the security content of Security Update 2020-001
Security Update 2020-001 (Mojave)
18G4032[7]
March 24, 2020
18.7.0 xnu-4903.278.28~1
About the security content of Security Update 2020-002
Security Update 2020-002 (Mojave)
18G5033
May 26, 2020
18.7.0 xnu-4903.278.35~1
About the security content of Security Update 2020-003
Security Update 2020-003 (Mojave)
18G6020
July 15, 2020
18.7.0 xnu-4903.278.43~1
About the security content of Security Update 2020-004
Security Update 2020-004 (Mojave)
18G6032
September 24, 2020
18.7.0 xnu-4903.278.44~1
Pulled 2020-09-30
About the security content of Security Update 2020-005
Security Update 2020-005 (Mojave)
18G6032
October 1, 2020
18.7.0 xnu-4903.278.44~1

About the security content of macOS 10.14.6 Supplemental Update
Security Update 2020-005 (Mojave)
18G6042
November 12, 2020
18.7.0 xnu-4903.278.44.0.2~1

About the security content of Security Update 2020-006
Security Update 2020-006 (Mojave)
18G7016
December 14, 2020
18.7.0 xnu-4903.278.51~1

About the security content of Security Update 2020-007
Security Update 2020-007 (Mojave)
18G8012
February 1, 2021
18.7.0 xnu-4903.278.56~1

About the security content of Security Update 2021-001
Security Update 2021-001 (Mojave)
18G8022
February 9, 2021
About the security content of Security Update 2021-002
Security Update 2021-002 (Mojave)
References
External Links