Not to be confused with macOS 10.12 (Sierra).
macOS Monterey (version 12) is the current major release of macOS, developed by Apple Inc.[3] It was released on October 25, 2021 at 10 a.m. PT (Cupertino time) to succeed MacOS Big Sur.[4]
Development
The forthcoming existence of macOS 12 was discovered within the source code of a WebKit update from February 2021.[5][6] It was announced on June 7 at the 2021 Worldwide Developers Conference, with the first beta version being released to developers.[7]
New features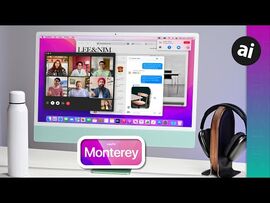 New features announced at WWDC 2021 include:[7][8]
Features that require Apple Silicon
The following features require an Apple M1 or newer processor from Apple:[12]
Supported models
Release history
Version
Build
Release date
Notes
12.0 beta 1
21A5248p
2021-06-07
First developer beta.
12.0 beta 2
21A5268h
2021-06-28
2021-07-01
2nd developer beta.
1st public beta.
12.0 beta 3
21A5284e
2021-07-14
3rd developer beta.
12.0 beta 4
21A5294g
2021-07-27
4th developer beta.
12.0 beta 5
21A5304g
2021-08-11
5th developer beta.
12.0 beta 6
21A5506j
2021-08-30
6th developer beta.
12.0 beta 7
21A5522h
2021-09-21
7th developer beta.
12.0 beta 8
21A5534d
2021-09-28
8th developer beta.
12.0 beta 9
21A5543b
2021-10-06
9th developer beta.
12.0 beta 10
21A5552a
2021-10-13
10th developer beta.
12.0
21A344
2021-10-??
Pre-installed on early Apple M1 Pro and M1 Max-based MacBook Pros. SharePlay and Universal Control not yet functional.
12.0.1
21A559
2021-10-25
First public release.
12.1
21C52
2021-12-13
Adds support for the AMD Radeon RX 6600 XT GPU and re-enables SharePlay.
12.2
21D49
2022-01-26
Addresses scrolling issues in Safari on MacBook Pros with M1 Pro or Max processors and 120 Hz displays.
12.2.1
21D62
2022-02-10
Addresses a battery drain issue when using Bluetooth.
12.3
21E230
2022-03-14
First public release of Universal Control. Apple Pay and

StoreKit

are updated.

Python

2.7 support is dropped.
12.3.1
21E258
2022-03-31
Addresses performance issues with GPU cards in external PCIe enclosures
12.4
21F79
21F2092
2022-05-16
2022-06-16
Bug fixes, including refinements to Universal Control.
Adds support for Macs with Apple M2 chips.
12.5 beta 4
21G5056b
2022-06-24
In beta testing.
Gallery
Monterey includes dynamic desktops, which change according to time and lighting conditions.
References
See also
External links
Articles