Not to be confused with macOS 12 (Monterey).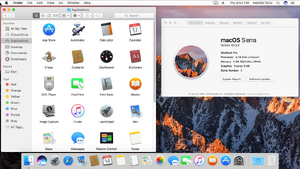 macOS Sierra (version 10.12) is the thirteenth major release of macOS (formerly OS X) Apple's desktop and server operating system for Macintosh computers. It is the successor to OS X El Capitan and is a new feature release. Following the California landmark-based naming scheme introduced with OS X Mavericks, Sierra was named after the Sierra Nevada mountain range that includes Yosemite National Park and Lake Tahoe. It was announced on June 13 at the 2016 Worldwide Developers Conference and was released on September 20, 2016.[1]
Features
Siri integration, including drag-and-drop.
Auto Unlock via paired devices such as an Apple Watch.
Universal Clipboard shared between devices using the same Apple ID.
Desktop and Documents Sync, syncing the desktop and documents folders via the cloud so the same desktop is available everywhere.
Photos now contains local intelligent systems processing to find relationships between photos and makes them available via search or browsing.
Picture-in-Picture support for Safari and iTunes, which allows users to watch videos while working in other applications.
Messages gets a major refresh and now allows users to integrate rich media into one's texts.
Apple Music is fully rebranded and has a new interface.
Optimized Storage, where old items can be moved off-disk onto iCloud storage.
Safari-style Tabs, where tabs are now a UI feature inherited by Cocoa applications, not just Safari, Terminal and the Finder.
Development history
The first beta of macOS Sierra was seeded to developers shortly after the keynote address of the 2016 Worldwide Developers Conference on June 13. The first public beta was made available in July 2016. macOS Sierra was officially released on September 20, 2016, as a free upgrade through the Mac App Store.
The Developer Beta also included a pre-release version of the Apple File System (APFS) to replace HFS+. However, APFS was not made available to the public until macOS 10.13 in 2017.
References
External Links