Mac OS X 10.1, code-named Puma, is the second major release of Apple Inc.'s operating system Mac OS X after Mac OS X 10.0 and before Mac OS X 10.2.
It was released on September 25, 2001 with free update CDs handed out at Apple retail stores and some other retail outlets.
Features:
This system release brought some major new features to the Mac OS X platform:
Performance enhancements everywhere in the system
Easier CD and DVD burning right from the Finder
DVD player support
More printer support (200 printers supported out of the box)
Faster 3D (OpenGL 20% faster)
Version history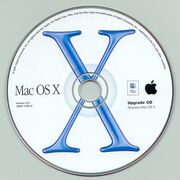 Gallery
References
External links
Community content is available under
CC-BY-SA
unless otherwise noted.