Mac OS X version 10.3 Panther, is the fourth major release of Apple Inc.'s operating system Mac OS X. The previous release was called Mac OS X 10.2 "Jaguar", and the following release was Mac OS X version 10.4 "Tiger". Apple charged USD 129.00 for a single-user license and USD 199.00 for a Family Pack (5 user, 1 household) license.
New features
Apple released Panther on October 24, 2003. Apple claimed that Panther had at least 150 new features, including: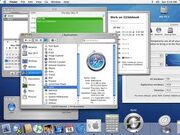 Finder updated interface

Brushed-metal interface
Real-time searching (like iTunes)
Customisable sidebar (like iTunes)

Fast user switching, that allows a user to remain logged in while another user logs in, featuring the desktop on an animated cube (the effect is only seen on systems with Quartz Extreme). Windows XP has a similar feature without an animated cube.
Exposé, a program to help the user manage windows, especially large numbers of them.
Fax support built-in.
X11 support built-in.
TextEdit support for Microsoft Word (*.doc) documents.
Microsoft Windows interoperability improvements, including support for SecurlD-based VPNs.
Security
iChat AV video-conferencing software
PDF rendering speed increases
File labels are back!
Pixlet high definition video codec (for digital animation, of Pixar fame) included
Safari was introduced in this version and replaced with the older internet system.
Version history
System requirements
The system requirements are:[1]
Models with a PowerPC G3, G4, or G5 processor (233 MHz minimum)
Integrated USB (indicative of New World ROM)
128 MB RAM minimum (512 MB recommended)
Minimum of 1.5 GB of free disk space.
CD ROM.
Internet access requires a compatible provider.
References
External links