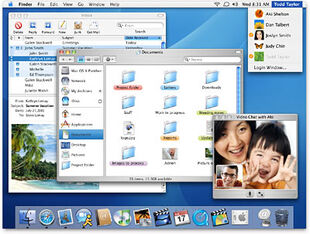 Mac OS X 10.3.3 is an update for Mac OS X 10.3 (Panther) that was released by Apple Computer on March 15, 2004.
Description
This update enables network volumes to be available in the Finder sidebar and Desktop, simplifying access. The update also enhances file sharing and Directory Services for Mac (AFP), UNIX (NFS) and PC (SMB/CIFS) networks.
In addition to providing more support for devices using FireWire and USB, some applications also got an update. These include:
Specific enhancements
Network-wise, there were plenty of changes; enhancements relating to .Mac were thrown in as well. Issues, such as a lost network connection, that could occur when connecting to a network device that forces the network speed ("locked devices") were addressed, and AppleTalk Browsing is now active by default. Naming conflicts occurring among Network Service Entities were solved, and available servers can now be seen whenever the user browses Windows Workgroups or Domains. Plenty of changes were also in place for /Network browsing, and synchronisation between .Mac and a Macintosh were improved; .Mac no longer attempts to auto-sync files over a wireless network before the Mac is authorised to use the Network. Open directory plug-in enhancements and compatibility improvements with third-party networking PCMCIA cards also formed the changes, network-wise.
Networking and .Mac enhancements
Addresses issues, such as a lost network connection, that could occur when connecting to a network device that forces the network speed and/or duplex setting (known as a "locked" device).
AppleTalk Browsing is now on by default.
Resolves an issue in which name conflicts could occur among Network Service Entities.
Available servers can be seen when browsing Windows Workgroups or Domains.
Enhancements to /Network browsing include: Servers appear on the desktop and in Finder window Sidebars, AFP Authentication options are available, and you can disconnect a server by dragging its icon on the desktop to the Trash or by clicking the Eject icon in the Sidebar.
Improves synchronization between .Mac and your computer.
.Mac no longer attempts to automatically sync files over a wireless network (or "hotspot") before the computer is authorized to use the network.
Enhances an Open directory plug-in, which is used in network environments: The Active Directory plug-in is no longer sensitive to the case of the domain; the plug-in now works in ".local" domain environments; the plug-in is now less sensitive to DNS records that don't have matching reverse lookup.
Improves compatibility with certain third-party wireless networking PC cards, such as the Honda AH-G10. More...
Enhances the IrDA menu item when IrDA networking is active.
Finder and applications that allow you to browse the file system will now refresh the contents of a remote network volume's folder or directory when the folder's contents change.
DVD Player enhancements
DVD Player will no longer quit if an unsupported PCI video card is installed in your computer. More...
DVD Player supports more DVD video discs that are designed to play automatically.
Improved DVD playback when "Digital Audio Output" is selected in DVD Player preferences.
DVD Player now recognizes and plays DVD+R media, on computers with optical drives that support DVD+R media.
Application enhancements
Images retain their characteristics when you import them in iPhoto. More...
Addresses an issue in which Mail could unexpectedly quit when marking some types of unsolicited messages (or "spam") as Junk.
Addresses issues that may cause Address Book and other applications to unexpectedly quit if the Classic Mac OS fonts are disabled in Font Book.
Text shadow opacity and color are saved in RTF documents and preserved when you copy or paste.
Image Capture can now import files whose names begins with an underscore character ("_") .
When you select (but not open) a file in an application, the flashing button now says "Choose" instead of "Open".
Other enhancements
Improvements in start up time that some computers experienced under some installations of Mac OS X 10.3.2 Update. More...
Improves security by requiring an administrator to authenticate for each Finder action that needs authentication, such as installing software. In earlier Mac OS X Panther versions, an administrator who authenticated may have unknowingly given elevated privileges to the non-admin user for 5 minutes. This change also prevents a normal user from performing administrator actions if an administrator user has authenticated during their session.

Improves situations in which Finder could unexpectedly quit (and open again) if the View menu option "Show icon preview" is enabled while dragging a significant number of icons to another location.
Improves print operations when a pending print jobs is moved to the queue of a printer that has different capabilities. More...
Improves recognition of Hi-Speed USB devices by PowerBook G4 and iBook G4 computers when woken from sleep.
A UPS (Uninterruptible Power Supply) panel is available in Energy Saver preferences, as well as a UPS menu bar item, when a UPS power management system is connected to the computer. Overall support for UPS systems is improved.
Improves display of text when printing a document that contains two-byte PostScript CID or OpenType fonts.
Improves compatibility for USB Overdrive: Addresses an issue in which the Media Eject and volume keys may not work if an early version was installed. More...
Improves Fan Control system function for Power Mac G5 computers.

Includes Bluetooth 1.5, which supports Bluetooth-enabled headsets with iChat AV, and adds the ability to print to compatible Bluetooth-enabled printers.

Adds support for the latest mLAN devices. First-generation mLAN devices require a firmware update for compatibility with v10.3.3. Please visit (http://www.mLANcentral.com) for complete details and access to available firmware updates.

For portable computers, adds an option in Keyboard & Mouse preferences to use Function keys for custom functions.

Improves function when sending faxes to combination phone/fax machines.
External links