Mac OS X version 10.4 Tiger, is the fifth major update to Mac OS X for Apple's Macintosh computers, and was released on April 29, 2005.
10.4 Tiger follows recent Mac OS development code names 10.3 Panther and 10.2 Jaguar.
Version history
New features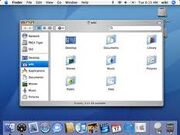 Mac OS X 10.4 contains over 200 new features. Apple CEO Steve Jobs previewed Tiger in his keynote speech at the Worldwide Developers Conference on June 28, 2004. The previewed features include:
Spotlight, a powerful full-text and metadata search engine which can search everything from files to iCal calendars, as well as any text within a PDF file. The feature is also used to build the concept of

Smart folders

into the Finder.
iChat AV that supports up to 4 participants in a video conference and 10 participants in an audio conference.
Reader for RSS and atom web syndication feeds built into the Safari web browser.
A new mini-applications layer based on HTML, Cascading Style Sheets, and JavaScript called Dashboard, adds "Widgets", similar to desk accessories, to the OS, and has been compared to Konfabulator, a third party product.
A scripting tool called Automator to link applications together to form complex automated workflows (written in AppleScript and/or Cocoa)

VoiceOver

, a spoken interface allowing the OS to read from the screen, and to permit operation of the OS by voice command.
Improved and expanded .Mac syncing features
An upgraded Kernel with optimised kernel resource locking, support for 64-bit memory pointers and access-control lists.
New versions of cp, mv, and rsync which will support files with resource forks. Command-line support for features like the above-mentioned Spotlight are also planned.
Xcode 2.0, including visual modeling, an integrated apple reference library and a graphical debugging remote.
Full 64-bit architecture, with backward support for 32-bit programs.
A new graphics processing API, Core Image, leveraging the power of the available accelerated graphics cards.
A new data processing API,

Core Data

, that makes it easier for developers to handle structured data in their applications.
QuickTime support for H.264/AVC which offers better quality and scalability than other video technologies (QuickTime 7).
An included

Dictionary

and thesaurus.
Grapher, a powerful mathetical program
New applications and utilities
International features
New with this release is the inclusion of new, enhanced Japanese fonts.
Known issues
Finder:

slow when dealing with network shares like iDisk.
doesn't accurately calculate the total size of a folder as files are added to or removed from it
not a spatial file manager [1]; its an AMAZING one.
uses an unusually wide range of user interface looks, including various combinations of Brushed metal, Aqua, and custom Spotlight-related controls and window decorations.
reference: John Siracusa, Ars Technica, 10.4 Review
Installation
Installing Mac OS X 10.4 is easy for users of Mac OS X 10.2 and Mac OS X 10.3. These systems can be upgraded directly. However, users of earlier versions of Mac OS X, up through to version 10.1.5, require a more complete installation.
Release dates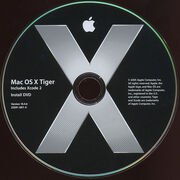 Apple introduced Mac OS X 10.4 Tiger internationally on April 29, 2005.
Tiger and Longhorn
Tiger is said to possess features to make Mac OS X competitive to the oft-delayed version of Microsoft Windows code-named "Longhorn", which would eventially be released as Windows Vista. Apple made fun of this at the WWDC presentation, with large posters with slogans such as "Introducing Longhorn", "Redmond, start your photocopiers", "Redmond, we have a problem", and "This should keep Redmond busy".
Reaction
David Pogue of the New York Times says that Mac OS X Tiger "is the classiest version of Mac OS X ever and, by many measures, the most secure, stable and satisfying consumer operating system prowling the earth." Pogue singles out Spotlight, Dashboard and the new Parental Control features as "humdingers".
System requeriments
Mac OS X v10.4 was available for both the PowerPC and Intel architecture, as there was no Universal version of the operating system. What was universally available on DVD was Tiger Server from version 10.4.7.[1]
Processor: PowerPC G3, G4 or G5.
Firewire.
Minimum of 256 MB of RAM (512 MiB or 1 GB recommended).
3 GB of hard disk space; 4 GB of hard disk space if you install

XCode

2 Developer Tools.
DVD reader for installation.
Supported Models
Trivia
Mac OS X Tiger had the most revisions of any Mac OS X to date, partly due to the fact that it was the longest-running major release of Mac OS X.
References
External links