Mac OS X Developer Preview (retroactively referred to as Developer Preview 1 or DP1) was the first of four developer releases of Mac OS X.
Interface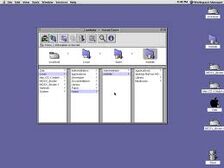 Mac OS X DP's interface did not yet adopt the Aqua interface used today. Instead, the Platinum interface from Mac OS 8 (and earlier on, from Copland) was still used. The system font remained primarily Charcoal.
However, although the interface appeared like that of Mac OS 8, the system layout and some names of system applications started bearing a Mac OS X flavor. For example, column view debuted (albeit designed in a very different manner), and the Mac OS X folder layout started bearing fruit.
Icons were made somewhat larger, with the font beneath the fonts no longer a standard 9- or 10-point Geneva. Also, the arrows of aliases were made larger (a la Windows).
Open and Save dialog boxes were somewhat altered with this version, with some hanging on to Navigation Services while others starting to adopt the new, multi-column dialog box of the Mac OS X era.
Already before their first public debut with Mac OS 9.1, the Window menu appeared.
Included applications
A prototype of Apple Mail debuted as MailViewer, with the interface to remain the same throughout the Public Beta.
TextEdit made its very first debut on this first developer preview release of Mac OS X. Meanwhile, the Calculator would receive a major overhaul that, sadly, would be kept from the Mac public's view until Mac OS X 10.2 -- it included scientific options. (The Calculator would lose these scientific options altogether already beginning with Developer Preview 4.
Some early signs of an internationalized Mac OS were already taking form. For example, you could see the familiar draggable list where you could set the OS in one language by dragging it to the top of the list.
There were no unified System Preferences yet, but all major System Preferences started to take form. Interesting to note was that of the Mouse preferences. For the first time in Mac history, it appeared, two-button mice were beginning to be supported, even with an option -- just like in Windows -- to have the other button on a two-button mice display a contextual menu!
External links