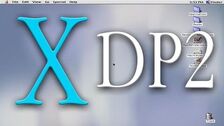 Mac OS X Developer Preview 2 (Mac OS X DP2) is the second developer preview version of Mac OS X. It was also the final developer preview that adopted the Platinum interface. With Mac OS X DP3, the Aqua interface would officially be adopted, ending the Platinum era.
Interface
Whereas Developer Preview 1 seemed like a mix between a NeXTSTEP/UNIX box and a Mac melange, Mac OS X DP 2 went to great pains to make sure that everything appeared as pure-Mac OS 8 as possible. Gone were the non-Geneva fonts and the larger-than-life icons.
Column view, however, remained an art yet to be mastered. A two-framed window resulted for some confusion.
Early forms of the Force Quit window and the Font Panel started to take shape.
Included applications
A unified form of System Preferences began to take form, with a single application -- Mac OS Preferences -- integrating most System Preferences panes. Unlike the System Preferences of Mac OS X Public Beta (and of the current day!), you could actually switch between different panes using -- again -- a separately framed area on the top of the Mac OS Preferences window.
External links