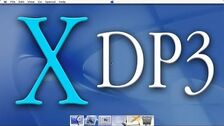 Mac OS X Developer Preview 3 (Mac OS X DP3) is the third developer preview version of Mac OS X. It was also the first developer preview that adopted the Aqua interface.
Interface
Developer Preview 2 attempted to look as much like Mac OS 8 as possible. That didn't last long; with DP3, we see the beginnings of the Aqua interface, with jellybean-like buttons, pulsing default interface items and 3D everything.  Boot times of DP3 were significantly faster than OS 9 on the same hardware.
Welcome to The Dock.  DP3 included the Dock, where applications, documents, folders and dock widgets could all coexist nicely together.  They all dynamically resized as more were added, and the icon size grew larger as the icons approached the mouse.
To try and smooth over the now marked differences between applications running with the Platinum look in Classic mode and applications running in Aqua, Apple also introduced its second theme for the Appearance Manager: Classic X.  This made the UI elements of the Classic mode look similar to those in Aqua -- with a few big differences, in that since the compositing engine wasn't used in Classic, there was no subpixel antialiasing, which meant that all fonts rendered slightly off, and shadow masks became opaque over Classic windows.
Included applications
Under the hood
DP3 converted the NextStep resource NIB files to XML format.  This meant that instead of using ResEdit to edit resource forks, programmers could now edit XML files that defined the resources, complete with in-line binary blobs.
Core Foundation also put in an appearance, providing one set of APIs all application services could use to access the core OS.
External links