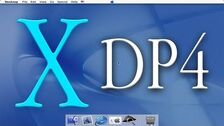 Mac OS X Developer Preview 4 (Mac OS X DP4) is the fourth and final developer preview version of Mac OS X and was released on May 15, 2000 at the WWDC.
Interface
For the most part, DP4 kept the same Aqua interface introduced with DP3.  The Application menu switched from using the application's icon to its textual name ("Finder" instead of the Finder logo) -- except that "Finder" has also now been renamed "Desktop".
As of DP4, the Apple icon in the center of the menu bar now moves out of the way if the space is required by other menus. 
Also, "System Preferences..." was added to the Application menu.  This launches Preferences.app, which as of DP4 has mostly functional preference panels, where mostly placeholders existed in DP3.
More options were added for displaying desktop pictures and for what elements can be shown on the desktop (such as drive icons).
The Dock finally becomes its own app, meaning it can be treated as such and can be quit, relaunched, etc.  This is also the first version that divides the Dock into Applications on the left and "everything else" on the right.  Regarding Applications, currently running applications have a "..." under the icon to indicate they are active.  This is also the first version to use the "icons on a board" approach instead of the "line of icon tiles" approach used in previous versions.
OpenGL handling improved significantly in DP4, and a new Project Builder (precursor to xCode) was included to handle more advanced graphics creations as well as compilation and IDE tasks.
Quicktime itself isn't much improved, but the player has had a complete overhaul, and is now mostly functional.
The Classic environment is much more stable, faster, and uses fewer resources.
Included applications
Under The hood
DP4 divided bundles up into the following three kinds: Application packages (.app), Frameworks (libraries, aka .framework) and Loadable Bundles (loadable plugin files, with any extension). 
This release also improves Core Graphics rendering, especially for printers. 
Most importantly, DP4 was the first version to sit on top of Apple's open-sourced Darwin distribution with the xnu kernel.
External links