The Mac OS X Public Beta was an early, test version of the Mac OS X operating system released to the public on September 13, 2000 for US$29.95. Hardcore Macintosh fans could therefore get a taste of the upcoming operating system before its final release. It was named Kodiak internally by Apple. The name was not publicly used.
Features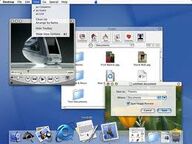 The public beta was the first time people could use the Aqua interface. Virtually everything was new in the operating system: fonts, the Dock, even the menu bar (with an Apple logo at the centre, which was later repositioned). The icons exploded in size, and new OS eye candy was all the rage.
As it was a public beta, this version was not without its bugs and inconveniences. Apple used user feedback to improve upon the OS, so that a vastly improved Golden Master version of Mac OS X was ready for release by March 2001.
The Public Beta version came with a price tag, and a time limit (set for May 15, 2001). In spite of all these shortcomings, it was still welcomed by the Mac community, with people eager to test drive the new OS.
The Public Beta was superseded by Mac OS X 10.0.0, the first final release of Mac OS X.
Packaging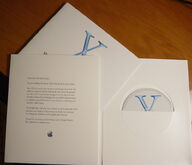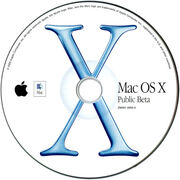 The packaging for Mac OS X Public Beta was relatively simple: documentation plus a CD-ROM in a compact box. The outside had a huge, aqua X greeting the purchaser.
Inside, on the left, were documentation and support files which were tucked behind a short greeting from Apple:
(Note: The wiki links are not present in the original message.)
On the right was the Mac OS X Public Beta CD, which lay half-immersed in the packaging.
References
External links