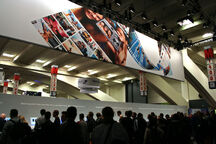 Macworld Conference & Exposition was a trade show dedicated to Apple's Macintosh platform. Produced by Boston-based IDG World Expo, it also had multiple conference tracks occurring around the world at its peak. The name Macworld is the name of the most widely read Macintosh magazine in North America, and is a trademark of its publisher Mac Publishing, a wholly owned subsidiary of International Data Group. IDG World Expo is also a subsidiary of International Data Group, founded by Patrick J. McGovern[1][2] The show was previously known simply as Macworld Expo and later became Macworld | iWorld before it was discontinued.
The conference featured educational conferences taught by leaders in their field, which required large admission fees to attend, and lasted for a few more days than the expo itself. The expo was typically open for three or four days, and attendees could visit the exhibits set up by hardware manufacturers and software publishers that support the Macintosh platform. Apple typically made new product announcements at expo, such as the January 2007 announcement of the iPhone.
There had been some discussion among critics about the necessity of having multiple Macworld events around the world when non-Mac focused events such as COMDEX were encountering financial trouble. Additionally, as Apple continued to expand its retail presence in the U.S. market, became easier to shop for Macintosh computers and accessories. The emergence of the World Wide Web also contributed to the decline in trade shows of relatively established markets such as the Macintosh business. Apple now makes most new product announcements at events that it organizes itself, such as its Worldwide Developers Conference.
History
Early history

In April 1984, Apple Computer held an "Apple II Forever" event at Moscone Center in San Francisco, with Apple co-founders Steve Jobs, Steve Wozniak, and then-CEO John Sculley. Jobs introduced the Apple IIc computer and discussed the recent launch of the first Macintosh.[3][4]
The first Macworld Exposition was held at Brooks Hall near the San Francisco Civic Center in February 1985 with an 11-foot tall working model of a Macintosh as Apple's centerpiece. Steve Jobs did not attend and was forced out of the company later that summer.[4][5] The following year, the event was consolidated with Apple's developer conference as the 1986 Apple World Conference, held from January 16 to 18 and organized by Mitch Hall Associates. John Sculley also wanted to redirect attention back to the Apple II series after Jobs' departure.[6][7]
The main event was once again named Macworld and returned to the larger Moscone Center in January 1987 with 250 exhibitors. A 3-day expo-only pass was $15; a pass that included the conference (still held at Brooks Hall) cost $40.[8] The expansion of Moscone Center allowed the remainder of events to be consolidated from Brooks Hall into in one location in 1993.
Expansion

An eastern U.S. event was held simultaneously at Bayside Expo & Executive Conference Center and at the Seaport Hotel and Seaport World Trade Center in Boston since 1985. It was moved to New York City's Javits Center in 1998, where the first National Macintosh Gaming Championship was also held. The competition was produced by Double Exposure and continued in 1999 in San Francisco, but was terminated after the New York show in 2000 to make way for the Apple Gaming Pavilion.
The show has taken place in other cities, historically. Macworld Expo Summit, a version of the show targeted at U.S. government customers, was held at the Washington Convention Center in Washington, D.C. in 1994. A Tokyo show, produced by IDG World Expo Japan, was held at Makuhari Messe and moved to Tokyo Big Sight in 2002.
MacWorld after Jobs' return
The 13th Macworld Expo in San Francisco was held January 7-10, 1997.[9] The return of Apple co-founder Steve Jobs overshadowed CEO Gil Amelio at an opening day media event held nearby at the Marriott Hotel.[10][11] After Jobs took over as Interim CEO later that year,[12] he reorganized Apple and its product lines in order to return the company to profitability.[13] At the next Expo held in August 1997 in Boston, Jobs surprised licensees by announcing that Apple had reached an agreement with Microsoft to settle legal issues in exchange for a investment of $150 million and a commitment to continue developing Microsoft Office for the Mac.[14]
Steve Jobs' "Stevenotes" became a central part of MacWorld events in the following years. His product announcements, from PowerPC G3-based Macs in 1998 to the iPhone in 2007, drove the resurgence of Apple Computer's business.[15][16] His final appearance at MacWorld Expo was in 2008, when he introduced the MacBook Air at Moscone Center in San Francisco.[17] He did not return in 2009 due to health reasons and died of complications from pancreatic cancer on October 5, 2011.[18][19]
Hiatus and cancellations
The last MacWorld Expo in Tokyo was held March 21-23, 2002 at Tokyo Big Sight with Steve Jobs providing the keynote address.[20] Future Tokyo events were cancelled due to the lack of exhibitor applications.[21] A MacWorld Conference in London was held May 17-18, 2004 at the Barbican Centre.[22] MacWorld moved its East Coast event from New York City's Javits Center, last held in 2003, to Boston's Bayside Expo Center, causing Apple to drop out of the 2004 event.[23] The move was considered a mistake after other industry leaders also dropped out or reduced the size of their own exhibits. Boston events after 2005 were cancelled to focus on the last remaining MacWorld Expo in San Francisco.[24]
IDG World Expo had claimed that Apple initially approved of the move responded to the loss of Apple's presence by renaming the show CREATE, and refocusing the show to the creative professional market. Recognizing the branding value of the Macworld name, the show was renamed once again to Macworld CreativePro Conference & Expo.[citation needed]
The event was rebranded as "Macworld | iWorld" in 2012 since Apple's primary business had shifted from Macintosh computers to iOS devices.[15] With Apple no longer attending the event and IDG founder Patrick J. McGovern having died earlier in March 2014, Macworld | iWorld went on "hiatus" as of October 2014 and parent company IDG was put up for sale.[1][2]
Culture
Historically, the Macworld Expos drew more diverse crowds than other technology trade shows, as Apple's fanatical customer base made up a significant portion of the show's attendance. It was legendary in its heydey for the parties that coincided with it, frequently with open bars, lavish hors d'oeuvres, and requisite t-shirts and other premium favors. Apple's developer parties featured high-profile entertainers like James Brown and Smashmouth.[citation needed]
MacWEEK held an exclusive party known as Mac the Knife, named for its anonymous columnist that wrote the back page industry gossip and rumour section. After MacWEEK's demise, the party was thrown by Ilene Hoffman, until Mac Publishing, owners of the Mac the Knife trademark, forbade her from using the name. The party continued, with appearances by the Macworld All-Star Band, under a series of names that referenced the Knife.
For four years at the New York show, MacAddict hosted a private dinner cruise on the Hudson River for its advertisers. Macworld schedules its annual Editor's awards ceremony for the night before the show in San Francisco. Macworld, MacAddict, and macHOME each hosted parties for advertisers as well.
Robert Hess of MacWEEK was the original keeper of the Macworld Party List, which kept track of each leisure event after the show. Prior to his death in 1996, he reportedly requested Ilene Hoffman to maintain it; the list was subsequently renamed the Robert Hess Memorial Events List. The list shrunk gradually as events became more sparse, and did not publish for the 2003 show in New York, but was published for the 2004 San Francisco show.
References
↑ 1.0 1.1 IDG cancels Macworld/iWorld 2015 conference, says show 'going on hiatus' by Neil Hughes, Apple Insider. 2014-10-14.
↑ 2.0 2.1 Tech Publisher IDG Transforming Itself From Within As It Braces For Sale Or Breakup by Ava Seave, Forbes. 2016-04-11.
↑ 'Apple II Forever': Found photos offer early look at icons by Peter Hardlaub, San Francisco Chronicle. 2017-03-23. Archived 2017-03-23.
↑ 4.0 4.1 Here's what the first Macworld looked like in 1985 by Peter Hardlaub, San Francisco Chronicle. 2014-03-26.
↑ When Steve Jobs Got Fired By Apple by Joel Siegel, ABC News. 2011-10-06.
↑ Macworld Expo Now to Include the Apple II Line by Elizabeth Ranney, InfoWorld, p.13. 1985-12-16.
↑ The Apple Revolution by Luke Dormehl, p.272. Random House. 2012-08-02.
↑ Macworld Expo 1987 San Francisco, 32by32. 2013-04-04.
↑ At Macworld, Apple failed to regain believers among the once-faithful by Denise Caruso, The New York Times. 1997-01-13.
↑ Macworld SF 1997, NotesKey. 2016. Accessed 2019-01-17.
↑ Gil Amelio with Steve Jobs #1997 #MACWORLD by KandaNewsNetwork,Inc., YouTube. 2010-05-04.
↑ Jobs named interim Apple CEO, C|NET. 1997-09-16.
↑ For the good of the company? Five Apple products Steve Jobs killed by Casey Johnston, Ars Technica. 2011-08-25.
↑ When Microsoft saved Apple: Steve Jobs and Bill Gates show eliminating competition isn't the only way to win by Catherine Clifford, CNBC. 2017-08-29.
↑ 15.0 15.1 15 Years Of Macworld History In Just 10 Minutes by Buster Hein, Cult of Mac. 2013-01-29.
↑ Macworld Expo attendance breaks records by Peter Cohen, Macworld. 2007-03-13.
↑ Apple Introduces MacBook Air—The World's Thinnest Notebook, Apple. 2008-01-15.
↑ Letter from Apple CEO Steve Jobs by Steve Jobs, Apple. 2009-01-05.
↑ Apple's Visionary Redefined Digital Age by John Markoff, The New York Times. 2011-10-05.
↑ Jobs to keynote Macworld Expo Tokyo by Peter Cohen, MacWorld. 2002-03-06.
↑ Macworld Expo Tokyo cancelled for 2003 by Jim Dalrymple, MacWorld. 2002-12-06.
↑ Macworld Conference 2004 coming to London by Peter Cohen, MacWorld. 2004-02-06.
↑ Macworld Expo moves to Boston; Apple will not go by Jim Dalrymple, MacWorld. 2002-10-17.
↑ Macworld Expo Boston cancelled by Jim Dalrymple, MacWorld. 2005-09-16.
External links
Articles