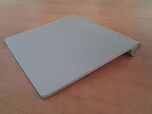 The Magic Trackpad is a multi-touch trackpad made by Apple Inc. The Magic Trackpad was made specifically for Macs running Mac OS X 10.6.4 (Snow Leopard) and higher; but will run with Bluetooth-capable iOS devices and as well as Windows XP, Vista, and 7 in Apple's Boot Camp, with an added device driver. It was superseded by the Magic Trackpad 2.
Features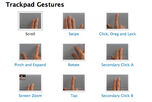 The Magic Trackpad is similar to the MacBook's built-in trackpad, but is 80 percent larger.
The Magic Trackpad connects through Bluetooth, and runs on AA batteries.
See also
External links
Community content is available under
CC-BY-SA
unless otherwise noted.