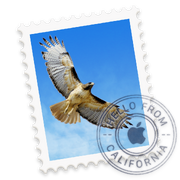 Mail, also known as Apple Mail, is an application provided with Mac OS X, iOS and iPadOS for checking email.
Capabilities
Mail is capable of writing rich-text (HTML) and plain text (text-only) emails from the very beginning, going back as early as the version which shipped with Mac OS X Public Beta.
Interface
Mac OS X Public Beta
During the era of the Mac OS X Public Beta, Mail had a drawer and a toolbar filled with push-buttons, which were relatively large. The buttons offered basic mail manipulation options as well as a search field.
Mac OS X 10.4
The Mail application received another drastic (some would say controversial) interface makeover, which were dismissed by some as bearing close resemblance to the interface found in the latest versions of Microsoft Entourage.
Buttons were now grouped (they appeared as part of a larger button), and the drawer disappeared completely—a new sidebar replaced the aging drawer.
Backing up data in Mail
This is a tip which currently works as of Mac OS X 10.3.x.
To back up all data in Mail, back up the following items:
Everything in the Mail folder in your Library folder (in /Users/);
com.apple.mail.plist
External links