Microsoft Windows, developed and marketed by Microsoft, is the predominant operating system of the PC platform. Its competitors include Google's Chrome OS and Apple's macOS (and more recently iPadOS).
History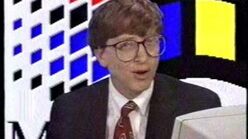 Microsoft co-founder Bill Gates visited and licensed technology from Xerox PARC, as Apple Computer co-founder Steve Jobs had done.[1] Jobs also invited Bill Gates to preview the pre-release development of the Macintosh in 1983. However, Jobs had already been forced out of Apple by the time Microsoft released Windows 1.0 in November 1995. It was initially running as a shell on top of MS-DOS, Microsoft's existing PC operating system, but would eventually replace it.[2]
Apple lawsuit
After Microsoft released Windows 2.0 with a GUI that was more similar to the Mac, Apple Computer, under then-CEO John Sculley, filed a federal lawsuit in 1988 against Microsoft for infringing on its operating system. However, U.S. federal judge William Schwarzer dismissed several charges against Microsoft in 1995 after discovering that Sculley had signed off on a deal on November 21, 1985 that had licensed parts of Macintosh technology to Microsoft.[1][2][3] After Apple co-founder Steve Jobs returned to the company in December 1996, he negotiated an end to the lawsuits with Microsoft and agreed to cross-license technology between the two companies in exchange for Microsoft's commitment to continue developing software such as Microsoft Office for the Mac and an investment of $150 million in Apple non-voting stock to help keep it out of bankruptcy.[2]
Release history
References
See also
External links
Articles