Armas Clifford "Mike" Markkula Jr. (born February 11, 1942) is an American engineer and businessman who was an angel investor of Apple Computer.
Education
Markkula received his bachelor's and master's degrees in electrical engineering from the University of Southern California.[1]
Career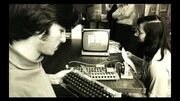 Markkula was already a wealthy retiree from Intel in January 1977, when he invested $250,000 in Apple to help fund the Apple II computer. In exchange, he received a 1/3 stake in the new company.[2] As the third official employee after Steve Jobs and Steve Wozniak, Markkula managed the growing company and developed its business plan. He became the first chairman of Apple's Board of Directors from January 1977 to March 1981, when he succeeded Michael Scott as CEO and Steve Jobs became the next chairman. In April 1983, John Sculley succeeded Markulla as CEO. Markkula resumed the role of chairman in October 1993, following the ouster of Sculley. Markulla became vice chairman in February 1996 when Gil Amelio assumed the roles of chairman and CEO. After Amelio was fired and Steve Jobs returned to the board in 1997, Markulla retired again after 20 years at Apple.[1][3][4]
Media portrayals
Markkula was portrayed by Jeffrey Nordling, Dermot Mulroney, and John Steen in the film dramatizations Pirates of Silicon Valley, Jobs, and Steve Jobs, respectively.[5][6][7]
References
See also
External links
Articles