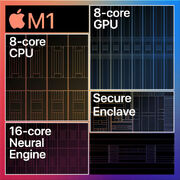 Apple's Neural Engine (ANE) is the marketing name for a group of specialized cores functioning as a neural processing unit (NPU) dedicated to the acceleration of artificial intelligence operations and machine learning tasks.[1]
History
The first Neural Engine was introduced in September 2017 as part of the Apple A11 "Bionic" chip. It consisted of two cores that could perform up to 600 billion operations per second for real-time processing of machine learning algorithms dedicated to features such as Animoji and Face ID. However, an API was not yet available for 3rd-party developers. The Neural Engine in the Apple A12 (also called "Bionic") was expanded to eight cores that could process up to 5 trillion operations per second. An API named Core ML was released in 2018 to allow developers to take advantage of the Neural Engine, which ran up to nine times faster on the A12 while using one-tenth of the power of the version in the A11. The 8-core Neural Engine within the Apple A13 that was released in September 2019 was 20% faster while using 15% less power.[2]
The Apple A14 was released in October 2020 with the number of Neural Engine cores doubled to 16, providing the ability to perform up to 11 trillion operations per second.[3] The Apple M1 was released in November 2020 with improved overall performance and power efficiency, but a Neural Engine that was largely unchanged from the A14.[4] The Apple A15 was announced in September 2021 with 16 Neural Engine cores like earlier models, but with the ability to perform up to 15.8 trillion operations per second.[5] However, Neural Engine performance in the Apple M1 Pro and Max, introduced in the following month, was unchanged from the lower performance of the original M1.[6] The Apple M1 Ultra was introduced in March 2022 which used a previously unrevealed interconnect called UltraFusion to effectively double the number of cores and performance over that of the M1 Max.[7]
Neural Engine version history
References
See also
Velocity Engine, older vector processing technology used in the PowerPC G4 and G5.
External links
Articles