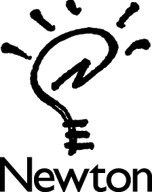 Newton was Apple Computer's first attempt to create a mobile platform for the handheld market. A series of devices were released from 1993 to 1997 by Apple and third-party companies, all running various versions of Newton OS.[1]
History
Development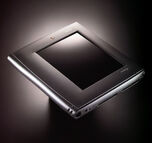 The Newton project was begun by Steve Sakoman around 1987 with the support of Apple executives Jean-Louis Gassée and John Sculley. However the scope of the project ballooned out of control with an A4-sized prototype, codenamed Figaro, which was expected to cost over US$6000 by 1992. Sakoman and Gassée left Apple to form Be, Inc. Sculley assigned Larry Tesler to salvage the project and Steve Capps was brought in after creating a working mockup in HyperCard. Three models were then planned: a larger 9 x 12 inch version codenamed Senior with a target price of $5000, a mid-sized 6 x 9 inch version with a target price of under $2000 that was quickly cancelled, and a small 4.5 x 7 inch version codenamed Junior with a target price of around $500 which would go on to become the MessagePad.[2][3] Apple established a new Personal Interactive Electronics (PIE) division in 1992 to develop and market the devices.[4]
Release
Apple CEO John Sculley unveiled the first device, tentatively called the Newton NotePad,[5] on May 29, 1992 during the keynote address of the Consumer Electronics Show in Chicago, Illinois.[6][7] However, it was still beset by thousands of bugs when 4,000 prototype units went into production on May 26, 1993 for use at point-of-purchase displays at retail stores. The first MessagePad finally began shipping on August 3, 1993 at Macworld Expo Boston for the base price of US$699.[2] However, there were accusations of price gouging as high as $897 of early customers who had waited in long lines. Third-party companies signed up for licenses to produce their own versions of Newton devices, with the Sharp Expert Pad PI-7000 being announced at the same time as original MessagePad.[8] By 1995, tepid sales of the MessagePad 120 forced Apple to resort to rebates to help move inventory of devices and accessories.[9]
Discontinuation


The Newton Systems Group was spun off from Apple Computer on July 1, 1997 into a wholly-owned subsidiary company, Newton, Inc.[10] The MessagePad 2100 was the first and only model to be released under the "Newton Technology" brand.[11] The subsidiary was soon re-absorbed back into Apple after CEO Gil Amelio was fired by the board and Steve Jobs took over as interim CEO. Jobs cancelled the Newton on February 27, 1998,[12] causing fans and developers to protest at the Apple campus in March.[13]
Legacy
Former Apple Newton developers founded Pixo, the company that created the operating system for the original iPod in 2001.[14] The iPhone and iPad, released in 2007 and 2010 respectively, are considered to be spiritual successors to the MessagePad.[15] A similar stylus did not appear from Apple until 2015 with the Apple Pencil for the iPad Pro.[16] In 2020, iPadOS 14 introduced handwriting recognition for Apple's iPad line.[17]
Hardware models
Apple Computer

Digital Ocean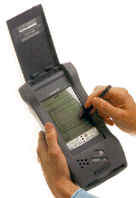 Harris Network Support Systems
Motorola
Schlumberger
Sharp
Siemens
Video gallery
References
External links
Articles