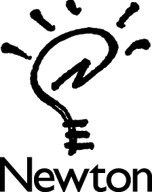 Newton OS was an operating system developed by Apple Computer for Newton mobile devices, such as the MessagePad series and the eMate 300.
History
Version 1.x
Newton OS 1.0 was first released with the original MessagePad on August 3, 1993 and used the CalliGrapher handwriting recognition engine. Rapid releases of early patches were focused on stability. Version 1.1 added German language support in October 1993.[1] Version 1.3 was initially released with the MessagePad 120 for the German market in October 1994,[2] and then became available as a downloadable software update on January 30, 1995 for existing users of the MessagePad 100 and 110.[3] It also added French support.[1]
Version 2.x
In December 1995, the MessagePad 120 became the first model to be upgradeable to Newton OS 2.0 through the replacement of a socketed ROM chip for US$109. Handwriting recognition was greatly improved and could recognize both printed and cursive script.[2] Version 2.1 was the final public release in March 1997 and added grayscale support. The ROMs from Apple's eMate 300 and Schlumberger Watson were discovered to be version 2.2, but patched in software to identify as 2.1.[4][5] The Newton product line was discontinued on February 27, 1998.[6]
Legacy
Former Apple Newton developers founded Pixo, the company that created the operating system for the original iPod in 2001.[7]
In September 2004, Paul Guyot released Einstein, an emulator that can run Newton OS 2.1 on Mac OS X. It has since become open-source software that can run on other platforms.[8]
Newton OS release history
References
↑ 1.0 1.1 Newton Hardware: Localized models, Chuma.org. Accessed 2020-01-20.
↑ 2.0 2.1 2.2 Luckie, Douglas. Newton MessagePad 120 (with OS 1.3 or 2.0). Michigan State University. Archived from the original on 2014-03-23.
↑ 3.0 3.1 Apple Announces the MessagePad 120 With Enhanced Features by Apple Computer, Tech Insider. 1995-01-30.
↑ 4.0 4.1 Other eMate Hardware Hacks by Stephanie Maksylewich. Archived 2008-05-15.
↑ 5.0 5.1 Newton Mp2x00 Extract the ROM, request for help by Sylvain Pilet, NewtonTalk. Archived 2015-01-30.
↑ Why did Apple kill the Newton? by David MacNeill, Pen Computing Magazine. 1998-06.
↑ Little-known startup was behind iPod's easy-to-use interface / Firm's founder now working on the latest handhelds by Matthew Yi, San Francisco Chronicle. 2004-08-16.
↑ Einstein Roadmap (PDF) by Paul Guyot, Worldwide Newton Conference. 2007-07-08.
↑ 9.0 9.1 9.2 9.3 9.4 Luckie, Douglas. Newton MessagePad. Michigan State University. Archived from the original on 2014-02-26.
↑ New Newton Operating System Will Debut on Apple's MessagePad 120 Personal Digital Assistant, Apple Computer. 1995-11-13.
External links
Articles