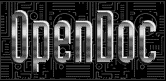 OpenDoc was a component-based framework standard for compound documents, inspired by (and intended as an alternative to) Microsoft's Object Linking and Embedding (OLE) technology.
Development
OpenDoc was initially created by Apple Computer in 1992 after Microsoft approached Apple asking for input on a proposed OLE II project. Apple reviewed the crude prototype and document and returned a list of problems they saw with the design. Microsoft wasn't interested in the feedback so Apple decided for competitive reasons that it should have an alternative and decided to create OpenDoc.
Initially it was code named "Exemplar", then "Jedi" and "Amber" before being released under the name OpenDoc. The development team realized in mid-1992 that an industry coalition was needed and created the Component Integration Laboratories with IBM and WordPerfect. In 1996, it was adopted by the Object Management Group.
Kurt Piersol from Apple Computer was the most well known of the architects of OpenDoc, but Jed Harris (later president of CILabs) was just as critical to the early designs. Mark Ericson from WordPerfect provided the vision for a port to Windows that included seamless interoperability between OpenDoc and OLE.
Release
OpenDoc was initially released to run under System 7.5 to provide a document-based, rather than application-based, computing experience. Documents were made of modular parts, which could contain different types of content, such as pictures, spreadsheet information, text or even Quicktime multimedia elements.
The WAV word processor was a semi-successful OpenDoc word processor, Cyberdog was created by Apple as an OpenDoc-based web browser, and Nisus Writer software by Nisus incorporated OpenDoc.
From IBM's involvement in Taligent, there was an implementation of OpenDoc in OS/2 Warp 4. IBM also contributed a large amount of development to the underlying object technology, the Common Object Request Broker Architecture (CORBA).
Discontinuation
OpenDoc initially had several hundred developers signed up, but suffered from poor timing. Apple was losing money, the Java programming language, JavaBeans and web-based applications were all being hyped as the next new way of building applications. Before long, it was scrapped, with Steve Jobs noting that Apple "put a bullet through [OpenDoc's] head", and the entire team was laid off in a big reduction in force in March 1997.[1]
PDF, created by Adobe Systems, had since become a free open standard that Mac OS X adopted as its document interchange format.[2]
References
External links