Parental Controls are in Mac OS X. They allow a parent to control their child's user account. Features include time limits, the Simple Finder, application blocking and logs.
The Simple Finder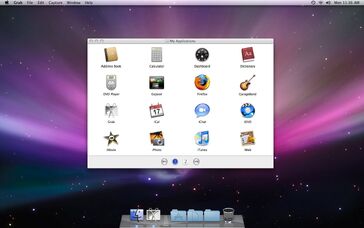 Quoting Wikibooks: The Simple Finder is a drastically simplified version of the Finder. The differences between the Finder and the Simple Finder are:
The left side of the Dock contains open applications only (the Finder and the Dashboard are always running). Therefore, the left side of the Dock in the Simple Finder is not a Launcher; only a Switcher.
As far as you're concerned, your computer has only three folders on it.

My Applications - Your Mac's administrator has complete control over which apps you can use. This folder contains links to the apps which administrator has approved of.
Documents - A place for all your files.
Shared - This is the Macintosh HD > Shared folder.

All three of these folders are in the right side of your Dock. You can't move them.
The Simple Finder has no scroll bars... instead, the Simple Finder has forward and back buttons to "page" through the contents of a folder.
You cannot minimize or resize a Simple Finder window.
You can only have one window open at a time.
The Simple Finder has only two menus, both of which are sparsely populated with commands.
The Simple Finder does not support Spotlight search or Smart Folders.
There is no way to delete a file in the Simple Finder. Deletion requires an Administrator use the File menu option to upgrade to the standard Finder. The inability to delete a file rules out the use of Simple Finder for most of the people who could benefit from it such as the elderly, the young, and persons of all ages who may be overwhelmed by the complexity of OS X.
This should not be confused with the far more valuable Simple Finder UI that was introduced in Mac OS 8.
System Preferences Options