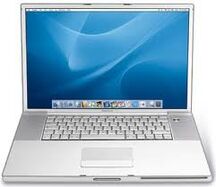 The PowerBook line of Macintosh laptop computers represent Apple's first truly successful battery-powered portable line. They were present from 1991 until early 2006, having replaced the Macintosh Portable and being replaced by the MacBook Pro.
68K PowerBook models
PowerBook 100 series

PowerBook Duo 200 series

PowerBook 500 series
PowerPC PowerBook models
PowerBook 1000 series

PowerBook 2000 series

PowerBook 3000 series

PowerBook 5000 series

PowerBook G3

PowerBook G4
Discontinuation
At the Macworld Conference & Expo at San Francisco in 2006, Apple CEO Steve Jobs revealed the MacBook Pro, based around an Intel processor. The first MacBook Pro came in a 15.4-inch model with an aluminum enclosure similar to the preceding PowerBook G4. The 12, 15, and 17-inch aluminum PowerBook G4 models remained on sale in Apple Stores, until inventory ran out. The 17-inch PowerBook G4 was soon replaced by the 17-inch MacBook Pro, and the 12-inch PowerBook G4 remained available until May 16, 2006, when the first 13-inch MacBook was announced as the replacement for the iBook. The 15-year Powerbook line of portable Macintosh computers finally came to an end.
External links