QuickTime is the default video player and multimedia framework included with all Macs. It can handle various formats of sound, video, picture, panoramic images, and interactivity. Under Mac OS X, it is also a framework under the Cocoa API that allows video playback in third-party applications without separate codecs. A version of QuickTime had also been available for Microsoft Windows.
Product history

QuickTime 1.0, codenamed "Warhol", was originally released for Macintosh System 6 on December 2, 1991.[1] Adobe Premiere 1.0 had also been in simultaneous development by Randy Ubillos and was one of the first QuickTime-based video editors on the market.[2]
Apple released QuickTime 2.0 for System 7 in June 1994, the only commercial version that was not freely released. Version 2.5 was released on July 22, 1996 with new MIDI support.[3] In March 1998, version 3.0 introduced QuickTime Pro features, which could be unlocked with a registration code.[4]
QuickTime 4.0 was released in June 1999 with support for playback of MP3 files. In July 2002, QuickTime 6.0 added support for playback of MPEG-4 video and AAC audio.[5]
Classic components
QuickTime MPEG Extension

On January 24, 1997, Apple released the QuickTime MPEG Extension for QuickTime 2.5 and later, which allowed playback of MPEG-1 video on Power Macintosh computers without the need for additional dedicated hardware, such as the Apple MPEG Media System card.[6][7]
QuickTime Musical Instruments

Adds MIDI support to QuickTime 2.0 and later. A companion QuickTime Music control panel and Macintosh MIDI Manager had also been in development for QuickTime 2.1, but were never released.[8]
QuickTime PowerPlug
The PowerPlug extension accelerates performance of QuickTime 2.5 and later on systems with a PowerPC processor.[8]
QuickTime VR

QuickTime VR allowed for 360-degree navigation in multimedia titles.
The final update of QuickTime for Mac OS 8.6, 9, and the Classic environment was version 6.0.3 on April 25, 2003.[9][10]
Mac OS X
Apple continued its development of QuickTime Pro features for high-end media users as a paid upgrade to the free QuickTime base installation. Codecs released exclusively for Mac OS X included Apple Intermediate and ProRes for its Final Cut Pro users.[11][12][13] Real-time server support was provided by QuickTime Streaming Server, a service daemon for Mac OS X Server through version 10.6.8.
Deprecation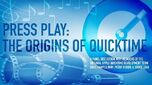 QuickTime 7 introduced QTKit in April 2006 as a new 64-bit framework in the transition leading up to QuickTime X.[14] Classic QuickTime (pre-X) and QTKit have since been deprecated in favor of AVFoundation and AVKit, which originated on Apple's iOS platform and have now become the default media framework for macOS.[15][16][17]
Apple discontinued QuickTime development for Windows since version 7.7.9,[18] leading the U.S. Computer Emergency Readiness Team to recommend the removal of obsolete versions of QuickTime from Windows computers due to the lack of future security updates.[19] Adobe discontinued support for the classic 32-bit versions of QuickTime and its legacy formats since April 2018 and ported the ProRes codecs of QuickTime X to support its Windows apps.[20][21]
References
↑ Today in Apple history: QuickTime brings video to the masses by Luke Dormehl, Cult of Mac. 2020-12-02.
↑ VideoSpigot Review by Jon Pugh, TidBITS. 1992-04-20.
↑ Apple finally released QuickTime 2.5! by Judith L. Stern and Robert Lettieri, Little QuickTime Page. 1996-07-22.
↑ Apple finally released QuickTime 3.0! by Judith L. Stern and Robert Lettieri, Little QuickTime Page. 1998-03-30.
↑ Happy birthday, Apple QuickTime by Tony Smith, The Register. 2011-12-02.
↑ Press Release: Apple Introduces High-Quality MPEG Software for QuickTime by Jonathan Hirshon, Apple Computer. 1997-01-24. Archived 1998-12-02.
↑ QuickTime gets extension: MPEG-enhanced playback possible by Ed Scannell, InfoWorld. 1997-02-03.
↑ 8.0 8.1 Apple Easter Eggs: QuickTime by David K. Every & Daniel Fanton, MacKido. 2002-11-09.
↑ Download Quicktime 6.0.3, Old Apps. 2003-04-25.
↑ QuickTime 6.0.3 for Mac, Apple Computer. 2005-01-28. Archived 2005-04-29.
↑ Final Cut Pro 5: About HDV and the Apple Intermediate Codec, Apple Computer. 2005-05-09. Archived 2007-04-27.
↑ Apple Unveils Final Cut Studio 2, Apple. 2007-04-15.
↑ Apple ProRes 422 Codec Family, U.S. Library of Congress. 2014-11-17.
↑ Mac OS X 10.6 Snow Leopard: the Ars Technica review - QuickTime X by John Siracusa, Ars Technica. 2009-08-31.
↑ Exploring AV Foundation, Apple Worldwide Developers Conference, 2011. Accessed 2019-02-05.
↑ Transitioning QTKit Code to AV Foundation, Apple Developer Documentation Archive. 2013-05-28. Accessed 2019-02-05.
↑ Moving to AV Kit and AV Foundation by Sam Bushell, Apple Worldwide Developers Conference, 2013. Accessed 2019-02-05.
↑ Download QuickTime 7.7.9 for Windows, Apple. 2016-01-07.
↑ QuickTime on Windows by the Creative Cloud Team, Adobe Blog. 2016-04-16.
↑ Dropped support for QuickTime 7 era formats and codecs, Adobe. 2019-10-14.
↑ This Is Huge: Adobe Now Supports ProRes Export on Windows by Oliver Kmia, Fstoppers (2018-12-14)
External links
Articles