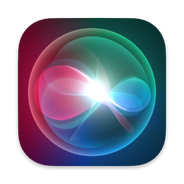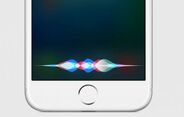 Siri is a voice-controlled artificial assistant developed by Apple Inc. Siri is compatible with the iPhone 4S and later, iPad (3rd generation) and later, and the iPod touch (5th generation) and later. It was also introduced in macOS Sierra. Siri allows the user to ask it questions in a normal voice and it will "not just hear, but understand the meaning of what you're saying."
History
Before Apple
Siri was originally created by SRI International, which spun off the development group in 2007 as Siri, Inc. to market the software.[1] Siri, Inc. released an iPhone OS app for iPhone 3GS in February 2010 to positive reviews,[2][3] with Android and Blackberry versions in development.[4] Apple acquired the company on April 27, 2010.[5]
iOS 5

Siri was introduced alongside iOS 5 on October 5th, 2011 during an Apple event in San Francisco, California. Apple executives Scott Forstall and Phil Shiller showed off many of the features in the new virtual assistant, and they released with the iPhone 4S on October 14, 2011. Siri's voice was modeled on that of Susan Bennett.[6]
iOS 6
During the 2012 Worldwide Developers Conference, Apple introduced iOS 6, featuring several improvements to Siri's capabilities, including the ability to open apps, display sports scores, checking movie times, and reserving restaurant spaces. These updates were released alongside the iPhone 5 on September 12, 2012.
iOS 7

At the 2013 Worldwide Developers Conference, Apple unveiled an all-new design for Siri alongside iOS 7, which featured a major user interface redesign. New voice options were added, and existing ones were improved to sound more natural.[7]
Now Siri can:
Search Wikipedia for articles.
Search Twitter for a post.
Search Bing.
Toggle Wi-Fi, Mobile Data or Bluetooth on or off.
Return calls.
Play new voicemails.
Control iTunes Radio.
"Siri in iOS 7 gets a new look, a new sound, and new capabilities. It features a redesigned interface that fades into view — on top of whatever's on your screen. A clearer, more natural-sounding female or male voice makes Siri even easier to understand. It's faster at answering questions and it checks more sources, such as Bing, Wikipedia, and Twitter. And Siri takes on extra tasks, like returning calls, playing voicemails, controlling iTunes Radio, and more."
iOS 8
Siri itself experienced a few new features in iOS 8, with the exception of the ability to be called upon using the keyword "Hey Siri" when the device was plugged in. However, Siri was expanded to the car with CarPlay.
iOS 9

Siri featured a major redesign in iOS 9, introducing a multitude of new features and taking over Spotlight as "Proactive Assistant."
This redesign includes new "Siri Suggestions" that predict events based on the user's habits, as well as displaying recent contacts, apps, and the latest news.
During its September 2015 event, Apple announced that Siri will respond to "Hey Siri" voice activation on an iPhone 6S, and an iPhone 6 when the device is plugged into power.
iOS 11
Starting with iOS 11, a new synthetic voice was constructed for Siri through machine learning, according to Apple senior VP Craig Federighi.[8]
iOS 14
Siri had another major redesign in iOS 14, this time, not taking the whole entire screen, but appearing at the bottom. It also had a new interface, featuring an animated sphere.[9]
According to Apple

Talk to Siri as you would to a normal person. Say something like "Tell my wife I'm running late.", "Remind me to call the vet." or "Any good burger joints around here?" Siri responds to your request, finds the information you need, then answers you. It's like you're having a conversation with your iPhone.
Siri doesn't only understand what you say, it's smart enough to know what you mean. So when you ask "Any good burger joints around here?" Siri will reply "I found a number of burger restaurants near you." Then you can say "Hmm. How about tacos?" Siri remembers that you just asked about restaurants, so it will look for Mexican restaurants in the neighborhood. And Siri is proactive, so it will question you until it finds what you're looking for.
Ask Siri to text your dad, remind you to call the dentist, or find directions, and it figures out which apps to use and who you're talking about. It finds answers for you from the web through sources like Yelp and WolframAlpha. Using Location Services, it looks up where you live, where you work, and where you are. Then it gives you information and the best options based on your current location. From the details in your contacts, it knows your friends, family, boss, and coworkers. So you can tell Siri things like "Text Ryan I'm on my way" or "Remind me to make a dentist appointment when I get to work" or "Call a taxi" and it knows exactly what you mean and what to do.
When there's something you need to do, just ask Siri to help you do it. Siri uses almost all the built-in apps on iPhone 4S. It writes and sends email messages and texts. It searches the web for anything you need to know. It plays the songs you want to hear. It gives you directions and shows you around. It places calls, schedules meetings, helps you remember, and wakes you up. In fact, ask Siri what it can do — it even speaks for itself.
Set reminders. Tell Siri what you need to do. Even say when and where you need reminding.
Send a text. Say who it's for and what the message should say, and Siri writes and sends your text.
Check the weather. Siri gives you the forecast for where you are or anywhere you're curious about.
Find information. Ask Siri almost anything and it finds the answer using sources like Yelp and WolframAlpha.
Schedule meetings. Just say who, what, where, and when. Siri puts it on your calendar and sends an invitation.
Send an email. Ask Siri to write and send an email. It can even send an email to more than one person.
Find a contact. Say a name, and Siri finds the address, phone number, and other details from your contacts.
Set an alarm. Tell Siri to set an alarm for a particular time. You can ask it to set as many as you need.
Get directions. Ask something like "Where's Apple?" and Siri tells you the address and how to get there.
Track your stocks. Just say the company name, and Siri keeps you up to date with stock details.
Set the timer. Tell Siri how much time you need, and it alerts you when time's up.
Ask Siri about Siri. Ask "What can you do?" and Siri tells you everything you need to know.
Compatible devices
Languages
Siri speaks in numerous languages:
Snarky responses
Siri is known to make clever or snarky responses when asked rude or silly questions. For example, certain requests can induce Siri to swear (as permitted by user settings) or tell ghost stories. In some cases, Siri can appear to feign jealousy if accidentally addressed as "Cortana", a similar virtual assistant developed by Microsoft.[10]
References
See also
External links
Articles