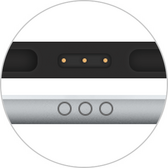 The Smart Connector is a proprietary connection interface used by the iPad line of tablets from Apple Inc.
Product history
The Smart Connector originally appeared in September 2015 in the iPad Pro, and later appeared in the 3rd generation iPad Air and 7th generation iPad. Only the iPad mini lacks a Smart Connector. The connection uses 3 flush metal contacts and is held in place magnetically, like the MagSafe power adapter. The Smart Connector can also provide electrical power to the peripheral or draw power to charge the iPad. The first peripheral to use the connector was Apple's Smart Keyboard. Apple made the Smart Connector open for 3rd party hardware developers to adopt.[1]
In November 2018, the Smart Connector was repositioned to the back of new iPad Pro models (3rd generation 12.9-inch, and 1st generation 11-inch), drawing criticism for the change in the usage of the standard. Outside of Logitech and Brydge, there were no other major manufacturers of accessories for the connector at the time.[2][3] 3rd party companies complained of the high price and wait times for proprietary components.[4][5]
Product list
Apple
3rd parties
Brydge

keyboards (side connection)[3]

Logi Base

charging dock (side connection)[6]

Slim Combo Keyboard

(side connection)[7]
References
External links