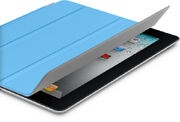 The Smart Cover is an accessory for the iPad 2, 3rd generation iPad and 4th generation iPad, as well as the iPad mini, IPad Pro and IPad Air, and was unveiled at the iPad 2 event by Apple CEO Steve Jobs.
It attaches magnetically to the side of the device and covers the front. The Smart Cover has three folds, dividing the case into four portions, so it can be manoeuvred to create a stand for the tablet. This can be either used to prop the iPad up in a position suitable for typing, or in an upright position for watching video and video calling over FaceTime. To expose the rear-facing HD video camera on the iPad, the cover can also be folded in half. The cover aligns with the front screen of the iPad and is designed to add very little thickness to the overall profile of the device. Additionally, when the Smart Cover is lifted off the face of the iPad, it automatically turns the device on from standby, meaning the on/off button on the top right of the device does not need to be pressed when the user wishes to use it. A smaller Smart Cover, featuring two folds and an integrated hinge, was released alongside the iPad Mini.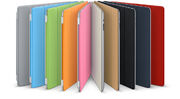 The Smart Cover also has microfiber on its underside (the side in contact with the screen), which is designed to clean the iPad's screen during everyday usage, and the topside comes in either polyurethane or leather. The cover is available in ten colors. The polyurethane cases come in pink, blue, green, light gray and dark gray; the leather is available in cream, tan, black, navy blue, and red. As with other Apple products, a portion of the red color's proceeds will be donated to (PRODUCT)RED. Apple also released an orange polyurethane smart cover, but they soon removed it from their store and replaced it with the dark gray polyurethane smart cover.
Steve Jobs said during the keynote:
"This isn't a case anymore. It's a cover for the screen. The micro-fiber screen cleans the screen every time you close it, and it's incredibly minimal."
Several design concepts found on the Smart Cover were first used in 2000 on the REB1200 e-book reader, released by RCA. It featured a flexible leather cover with embedded magnets which held the cover in place. The cover also automatically turned the device on from standby when opened, and put the device to sleep when closed.