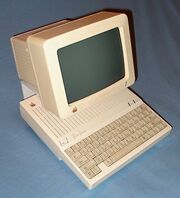 Snow White is an industrial design language used by Apple Computer in their product lines from 1984 to 1998.
History
The code name "Snow White" refers to the seven dwarves; several designers were asked by Apple Computer to create potential industrial designs for 7 products. 8 were submitted.[1] In 1982, Hartmut Esslinger of Frog Design won the competition and was awarded a contract to develop Apple's design strategy for $1 million per year.[2]
The first computer from Apple to be based on an early variation of the design language was the Apple IIc in 1984, which introduced the familiar parallel vent lines and used a creamy off-white color called "fog", lighter than the previous "putty" color used by earlier Apple II models.[3][4]
The first Macintosh computer to be released with this design language was the Macintosh SE in 1987, which was introduced in a slightly warmer color, now familiarly known as "platinum", later referred to as "beige". The closest Pantone value is Cool Gray 2 U (hexadecimal #CACAC8). The design language was gradually phased out as Jonathan Ive of Apple's own Industrial Design Group introduced newer designs, such as the 20th Anniversary Macintosh. The last models to use elements of Snow White were the beige Power Macintosh G3 series, before the first iMac G3, designed by Ive, was released in 1998.[4][5]
References
See also
External links
Articles