Stephan Gary "The Woz" Wozniak (born August 11, 1950) is one of the original co-founders of Apple Computer, with Steve Jobs and Ronald Wayne on April 1, 1976. He is officially designated employee #1 and served as VP of Engineering.[1][2]
History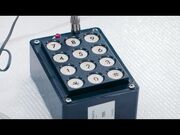 Wozniak graduated from Homestead High School in Cupertino, California, which would later be attended by Steve Jobs. In 1969, fellow classmate Bill Fernandez introduced Jobs to Wozniak while the latter was washing his car.[3] In 1971, Wozniak and Fernandez worked together on their first computer board, called Cream Soda, which used punch cards, while consuming Cragmont Cream Soda.[4][5] After reading about phone phreaking in an October 1971 issue of Esquire, Wozniak built "blue boxes" to make free phone calls and once called the Vatican in an attempt to reach Pope Paul VI. Jobs sold the blue boxes for around $170; some were obtained by the FBI after blue box customers got caught using them.[6]
In 1973, while employed at Hewlett-Packard, Wozniak started the first Dial-A-Joke service in San Francisco in his spare time with rented answering equipment.[7]
In 1975, Wozniak and Jobs collaborated at Atari on the design of the video game Breakout,[8][9] which led him to begin work on a system that would become the Apple I.[10]
Wozniak at Apple
Wozniak designed the logic board and hand coded the original BASIC interpreter for the Apple I and II computers.[10][11] He was designated an Apple Fellow for his work.[12]
When Wozniak discovered that some of Apple's early garage employees did not receive any stock options in the company, he offered them US$10 million worth of his personal shares through what was called the "Woz Plan".[13] Wozniak stated that he has remained on Apple's payroll since day one, still drawing a "small" paycheck and reporting directly to co-founder Steve Jobs. Wozniak added, "Since he died, I can't be fired."[14]
Media portrayals
Wozniak was portrayed by Joey Slotnick, Josh Gad, and Seth Rogen in dramatizations of his relationship with Jobs in the films Pirates of Silicon Valley, Jobs, and Steve Jobs, respectively.[15][16][17]
Video gallery
References
↑ The First 10 Apple Employees: Where Are They Now? by Jay Yarow, Business Insider. 2011-05-24.
↑ Who were the original Members of the Apple Board of Directors? by Garrick Saito, Elevation Partners, Quora. 2016-03-24.
↑ Apple's first employee: The remarkable odyssey of Bill Fernandez by Jason Hiner, Tech Republic. 2014-12-05.
↑ Cream soda – The first computer by Shashwat Pradhan, Emberify Blog. 2014-10-01.
↑ The Definitive Story of Steve Wozniak, Steve Jobs, and Phone Phreaking by Phil Lapsley, The Atlantic. 2013-02-20.
↑ The World According to Woz by Gary Wolf, Wired. 1998-09-01.
↑ Breakout - Jobs and Woz Bust Through by William Hunter, The Dot Eaters. 2013-03.
↑ The Making of Breakout, Retro Gamer. 2014-05-13.
↑ 10.0 10.1 How Steve Wozniak Wrote BASIC for the Original Apple From Scratch by Steve Wozniak, Gizmodo. 2014-05-01.
↑ Why didn't the early Apple II's use Fans? by Steve Wozniak, Woz.org. Archived 2012-11-04.
↑ Hertzfeld, Andy. Credit Where Due,Folklore.org, January 1983. Retrieved May 26, 2006.
↑ When Steve Jobs Refused To Give Early Apple Employees Stock, Steve Wozniak Offered Them $10 Million Of His, by Alyson Shontell, Business Insider. 2014-09-05
↑ Steve Wozniak is still on Apple's payroll four decades after co-founding the company by John Shinal, CNBC. 2018-01-18.
↑ Pirates of Silicon Valley (1999), Internet Movie Database. Accessed 2020-02-09.
↑ Jobs (2013), Internet Movie Database. Accessed 2020-02-09.
↑ Steve Jobs (2015), Internet Movie Database. Accessed 2020-02-09.
Books
Woz's Wanderings by Owen W. Linzmayer, Apple Confidential 2.0: The Definitive History of the World's Most Colorful Company, p.27-39. No Starch Press. 2004.
See also
External links