The Swift Student Challenge is a competition organized by Apple Inc. in which students can submit code written in Swift through Swift Playgrounds.[1]
Eligibility requirements
To be eligible to submit your information to the Challenge, you must:
Be 13 years of age or older, or the equivalent minimum age in the relevant jurisdiction (for example, 16 years of age in the European Union);
Be registered for free with Apple as an Apple Developer or be a paid member of the Apple Developer Program; and
Fulfill one of the following requirements:

Be enrolled in an accredited academic institution or official homeschool equivalent;
Be enrolled in a STEM organization's educational curriculum;
Be enrolled in an Apple Developer Academy; or
Have graduated from high school or equivalent within the past 6 months and be awaiting acceptance or have received acceptance to an accredited academic institution.
Submission requirements
You must complete all required fields on the submission form and upload all required files and documentation before submitting.
You must provide a PDF, PNG, or JPG of your current class schedule or other current proof of enrollment and the contact information for your dean or principal. Documentation is accepted in all languages and must clearly show your name, the organization or school name, and the dates for which it is valid.
Submissions must be built with Swift Playgrounds and may incorporate the use of Apple Pencil. If it runs on iPadOS, it must be optimized to display properly on all models of iPad Pro. Your Swift playground should be fully functioning one of the following platforms:

2020 submissions must run on Swift Playgrounds 3.3 on iPadOS 13.4.1, Swift Playgrounds 3.3 on macOS 10.15.4, or Xcode 11.4.1 on macOS 10.15.4.
2021 submissions must run on Swift Playgrounds 3.4.1 on iPadOS 14.4.2, Swift Playgrounds 3.4.1 on macOS 11.2.3, or Xcode 12.4 on macOS 11.2.3.

Your Swift playground must either be created by you, as an individual, or be based on a Swift Playgrounds template modified by you as an individual. Group work or Xcode projects will not be considered. You may include third-party open source licensed code and/or public domain images and sounds, with credit and an explanation of why it was used.
All content should be in English and the .zip file of the submission should not exceed 25 MB in size.
Submissions will be judged offline. Your Swift playground should not rely on a network connection and any resources used in your Swift playground should be included locally in your .zip file.
You must provide an essay answer written by you for all required questions in the submission form.
You must comply with the terms of the Swift Playgrounds Software License Agreement when creating your Swift playground.
Awards
Each student selected for a Challenge award will receive exclusive Worldwide Developers Conference (WWDC) outwear and a custom pin set, subject to the above terms. In addition, one year of individual membership in the Apple Developer Program will be assigned free of charge to eligible accounts of recipients who have reached the age of majority in their region.[1][2]
2020 winners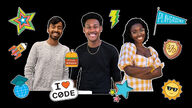 The submission period for the WWDC 2020 challenge was from May 5 to 17, 2020.[3] The winners were announced on June 16, 2020.[4]
Palash Taneja — designed a Swift Playground that teaches coding while simulating how a pandemic moves through a population.
Devin Green — submitted Slight Work, which helps students manage their time using a special formula.
Sofia Ongele — submitted ReDawn, which helps sexual assault survivors access resources.
2021 submissions
The submission period for the WWDC 2021 challenge is open from March 30 to April 18, 2021 at 11:59 PDT.[5][6]
References
External links
Community content is available under
CC-BY-SA
unless otherwise noted.