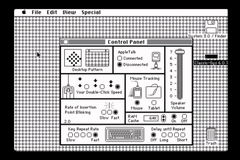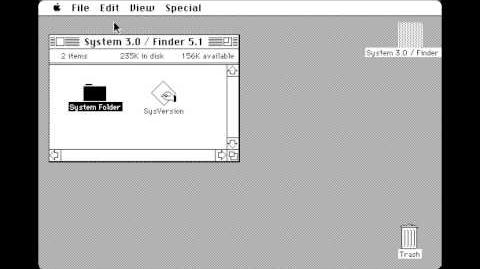 System 3.0 debuted with the introduction of the Mac Plus in January 1986, and like the Plus, it changed the way Mac enthusiasts used their machines. The most visible upgrade to the system software since its inception, and only surpassed by System 7 and Mac OS 8 in functional and visual changes, it was a dramatic change from System 2.0.
The Finder, now at version 5.1, was much more efficient and responsive than Finder 5.0 and earier. This was in part due to the newly created Disk Cache, which stores frequently used routines and instructions in a chunk of memory. Despite the big changes, there weren't many visual updates to the system. So what was all the hoopla about? System 3.0 was the first operating system that fully supported the Hierarchical File System (first introduced with Apple's HD20 hard drive in System 2.1, but not publicly announced). HFS was more efficient, easy to use and robustly designed than the older Macintosh File System (MFS). The main benefit of HFS was the ability to nest folders (put folders within folders). MFS only allowed you to create folders at the root level, and they would not appear in Open/Save dialog boxes and would be lost when rebuilding the desktop. HFS took care of that, allowing you to create many nested folders allowing for better organization at the system-wide level, instead of only in the Finder.
System 3.0 was revered so much that it later went on to win InfoWorld Magazine's People's Choice Award for OS Environment of the Year. HFS was eventually replaced in Mac OS 8.1 with HFS Plus, which better calculates file block sizes according to maximum hard disk capacity, and has continued to be used by Apple in updated forms through macOS 10.12.
References
External links