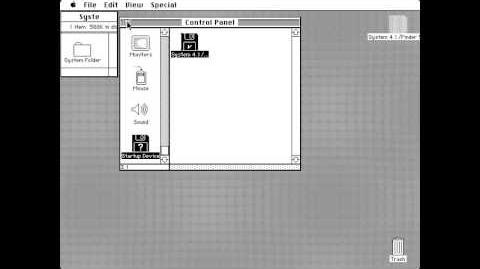 System 4.1, Finder 5.5 (System Software 2.01)
was released March 2,
1987
.
Mac users had just two months to enjoy a nice 1 digit version number of their operating system. System 4.1 was updated to work with AppleShare 1.1. AppleShare 1.1 was required to network the newly released Mac II. This update also modified the way the Finder handled large capacity drives (namely those larger than 32 MB).
System 4.1 also excluded the
Mac 512K
, as it required at least 1 MB of RAM to run. This was the last time Apple dropped hardware support for over a decade; they would not exclude further models until the introduction of
Mac OS 7.6
which only ran on "
32-bit clean
" hardware.
External References
Macintosh system software