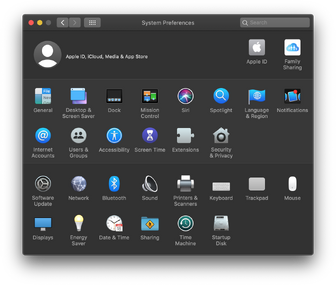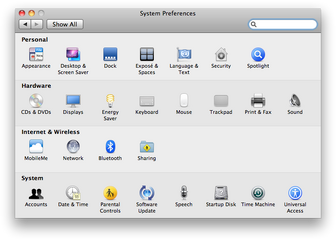 System Preferences is the application utility used by Mac OS X and macOS to set user preferences, replacing the Control Panels folder found in previous versions of classic Mac OS.
In Mac OS X and macOS, it can be found in the Applications folder or near the right side of the Dock by default. In Mac OS X 10.1.x, this application's name was shortened to System Prefs, but resumed its full name in Mac OS X 10.2, as it appeared in Mac OS X 10.0.x.
Apple announced at the 2022 Worldwide Developers Conference that macOS Ventura (version 13) would replace System Preferences with a new System Settings utility featuring a sidebar style like iPadOS.[1]
Evolution
Under Mac OS X Public Beta and Mac OS X 10.0.x, the user could only drag 6 favorite preferences to the toolbar above, and categories did not exist. System Preferences then had 21 preferences.
Categories started to exist under Mac OS X 10.1.x. At the same time, the number of preferences that can be dragged to the toolbar was rid of its limitations.
Until Mac OS X 10.2.x (and even in "Jaguar"), the System Preferences window would show, even for a short while, a "Loading" screen while a panel was loaded. This disappeared completely as of Mac OS X 10.3, although the title bar now did all the "talking".
Spotlight search capabilities were added in Mac OS X 10.4 Tiger. At the same time, the toolbar, part of the utility since Mac OS X Public Beta, was fully revamped.
Individual Panels
Mac OS X Public Beta

Mac OS X 10.0.x

Mac OS X 10.1.x

Personal category

Hardware category

Internet & Network category

System category

Mac OS X 10.2.x

Personal category

Hardware category

Internet & Network category

System category

Mac OS X 10.3.x

Personal category

Hardware category

Internet & Network category

System category





Mac OS X 10.4

Personal category

Hardware category

Internet & Network category

System category




References
External links
Articles