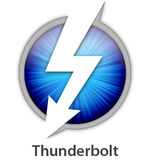 Thunderbolt is an I/O technology developed by Intel in collaboration with Apple Inc. It first introduced by Apple in its 2011 line of MacBook Pros and became the official replacement for FireWire and was the standard above USB until USB4.
Versions
Thunderbolt 1 can reach transfer rates of up to 10Gbps through an interface that looks like and is backwards compatible with Mini DisplayPort. Thunderbolt also can deliver Gigabit Ethernet through an adapter.
Thunderbolt 2 uses the same Mini DisplayPort connector as Thunderbolt 1, but can reach transfer rates of up to 20Gbps.

Thunderbolt 3 uses the USB-C form factor and can reach transfer rates of up to 40Gbps. USB4 uses the same form factor and is basically the same as a USB-C port that supports Thunderbolt 3 signals.
Pinouts
Thunderbolt 1 and 2
| Pin | ID | Description |
| --- | --- | --- |
| 01 | GND | Ground |
| 02 | HPD | Hot plug detect |
| 03 | HS0TX(P) | HighSpeed transmit 0 (positive) |
| 04 | HS0RX(P) | HighSpeed receive 0 (positive) |
| 05 | HS0TX(N) | HighSpeed transmit 0 (negative) |
| 06 | HS0RX(N) | HighSpeed receive 0 (negative) |
| 07 | GND | Ground |
| 08 | GND | Ground |
| 09 | LSR2P TX | LowSpeed transmit |
| 10 | GND | Ground (reserved) |
| 11 | LSP2R RX | LowSpeed receive |
| 12 | GND | Ground (reserved) |
| 13 | GND | Ground |
| 14 | GND | Ground |
| 15 | HS1TX(P) | HighSpeed transmit 1 (positive) |
| 16 | HS1RX(P) | HighSpeed receive 1 (positive) |
| 17 | HS1TX(N) | HighSpeed transmit 1 (negative) |
| 18 | HS1RX(N) | HighSpeed receive 1 (negative) |
| 19 | GND | Ground |
| 20 | DPPWR | Power |
Gallery
References
External links