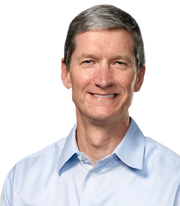 Timothy Donald Cook (born November 1, 1960) is the CEO of Apple and serves on its Board of Directors. The highest paid CEO, Cook owns shares valued at US$1.3 billion as of 2015.[1]
Education
Cook earned an M.B.A. from Duke University, where he was a Fuqua Scholar, and holds a Bachelor of Science degree in Industrial Engineering from Auburn University.
Career
Before being hired by Steve Jobs for Apple in March 1998, Cook worked at Compaq as a VP for Corporate Materials. He served as Senior Vice President for Worldwide Operations. Cook also served as COO of Intelligent Electronics and also spent 12 years at IBM as the director of North American Fulfillment.
When Cook joined Apple, he became the company's Senior VP of Worldwide Operations. He was promoted to Chief Operating Officer and became responsible for all of the company's worldwide sales and operations, including end-to-end management of Apple's supply chain, sales activities, and service and support in all markets and countries. He also headed Apple's Macintosh division and played a key role in the continued development of strategic reseller and supplier relationships, ensuring flexibility in response to an increasingly demanding marketplace. Cook is commonly credited for pulling Apple out of manufacturing by closing factories and warehouses around the world.
Cook was also acting CEO of Apple for 2 months in 2004 while Steve Jobs recovered from pancreatic cancer surgery, and again in 2009 when Steve Jobs took a leave of absence for a liver transplant. In January 2011, Steve Jobs was approved for another medical leave, and Cook was placed in charge for most of Apple's day-to-day operations, while Steve Jobs was in charge of major decisions of the company.
On August 24 of 2011 , Steve Jobs resigned as CEO of Apple and was succeeded for the fourth time by Tim Cook, this time permanently. Cook not only serves as Apple's CEO, but also on the Board of Directors for Nike as the 11th director of the sports apparel company since 2005.
Personal life
Cook is a fitness enthusiast, and enjoys hiking, cycling, and going to the gym. Cook normally starts to send emails at 4:30 AM. On October 29th, 2014, Cook came out as openly gay.
References
External links
Community content is available under
CC-BY-SA
unless otherwise noted.