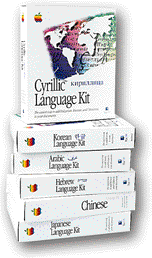 WorldScript was developed by Apple Computer to support the use of foreign languages and character sets in classic Mac OS version 7.1 and later.
Features
WorldScript is comprised of the WorldScript I and II extensions, as well as individual foreign language scripts and keyboards, which are installed into the System file. It is not an application program; it enables multilingual features in existing classic Mac OS applications and regulates how various scripts interact with each other.
History
WorldScript was introduced in 1992 with System 7.1, which was localized into 35 languages:[1]
Arabic
British
Bulgarian
Chinese (Simplified / Mainland China)
Chinese (Traditional / Taiwan)
Croatian
Czech
Danish
Dutch
English (International)
English (U.S.)
Faroese
Finnish
French
French Canadian
German
Greek
Hangul (Korea)

Hebrew
Icelandic
Italian
Japanese
Magyar
Norwegian
Persian
Polish
Portuguese
Romanian
Russian
Spanish
Swedish
Swiss French
Swiss German
Thai
Turkish
Language Kits were individually available for Arabic & Persian, Chinese, Cyrillic, Hebrew, Indian, Japanese, and Korean. Updaters were freely provided by Apple to make previously purchased Language Kits compatible with Mac OS 8.[2] In 1998, WorldScript and all available Language Kits became a standard part of Mac OS 8.5,[3][4] which also introduced support for Unicode through Apple Type Services for Unicode Imaging (ATSUI) 1.0. In 1999, Mac OS 8.6 updated ATSUI to version 1.1.[5]
Deprecation
With the transition to Mac OS X, WorldScript was phased out in favor of ATSUI with its Unicode support. However, as ATSUI itself was based on the transitional Carbon API, it too started being phased out in favor of Core Text with the release of Mac OS X 10.5 "Leopard" in October 2007.[6][7] Core Text was also adopted for the iPad in iPhone OS 3.2 and its successors, iOS and iPadOS. Mark Davis, the co-author of KanjiTalk and WorldScript,[8][9] is now the co-founder and president of the Unicode Consortium.[10]
References
↑ WorldScript: Macintosh is localized in 35 Languages, Apple Computer. Archived 1999-04-20.
↑ Apple Language Kits, Apple Computer. Archived 1998-04-29.
↑ A Brief History of Character Codes by Steven J. Searle, originally written 1999, last updated 2004.
↑ Mac OS 8.5 report (Japanese) by MACお宝鑑定団, Mac Teasure Tracing Club. 1998-12.
↑ Mac OS 8.5, 8.5.1, 8.6 and Developers, Apple Developer. Archived 1999-10-09.
↑ Overview of ATSUI, Apple Developer Connection. Archived 2003-09-18.
↑ Mac OS X 10.5 Leopard: the Ars Technica review, by John Siracusa, Ars Technica. 2007-10-28.
↑ Unicode History by Axel Rauschmayer, Speaking JavaScript: An In-Depth Guide for Programmers p.357. 2014-02-25.
↑ Macintosh Plus J-model 漢字Talk1.0 KanjiTalk1.0 by furui_ringo, Instagram. 2019.
↑ Meet the shadowy overlords who approve emojis by Tracy Lien, Los Angeles Times. 2016-01-26.
External links