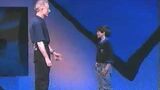 Worldwide Developers Conference 1996 (or WWDC 1996) was a computer conference that was hosted by Apple Computer for its developers at the San Jose Convention Center in San Jose, California. It was Apple's 7th annual Worldwide Developers Conference, held from May 13 to 17, 1996.
Product announcements
The primary emphasis at WWDC 1996 was a new software component technology called OpenDoc, which allowed end users to compile an application from components offering features they desired most.[1] The OpenDoc consortium included Adobe, Lotus, others, and Apple. Apple touted OpenDoc as the future foundation for application structure under Mac OS. As proof of concept, Apple demonstrated and released a new end-user product called Cyberdog, a comprehensive Internet application component suite offering users an integrated browser, email, FTP, telnet, finger and other services built fully of user-exchangeable OpenDoc components.[2] ClarisWorks (later renamed AppleWorks), a principal product in Apple's wholly owned subsidiary Claris, was demonstrated as an example of a pre-OpenDoc component architecture application modified to be able to contain functional OpenDoc components.[3]
Other introductions included the first developer release of MkLinux, given away on CD-ROM to attendees of the Linux session,[4] and coverage of the Pippin platform.[5]
Gallery
References
External links
Community content is available under
CC-BY-SA
unless otherwise noted.